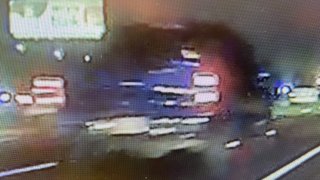 Pennsylvania State Police hope a grainy photo of a pickup truck helps them track down a driver who struck and killed a man along Interstate 95 in Delaware County over the weekend.
The deadly incident took place just after 9 p.m. on Saturday, July 23, 2022, on I-95 north near mile-marker 2.4 in Upper Chichester Township, state police said Tuesday. That's just before Exit 3 - Highland Avenue.
The driver of a blue Ford F-150 was traveling in the right lane of I-95 when the driver swerved onto the right shoulder and struck another truck, a motorcycle and a 44-year-old pedestrian, state police said.
The pedestrian died at the scene from his injuries, police said.
The truck driver didn't stop to help him, police said.
"Any individual or auto-body shop that recognizes the blue Ford F-150 or has knowledge about owner of said vehicle is encouraged to contact Tpr. Zechariah Walter or PSP Media at 484-840-1000," state police said.