With just more than two weeks until Pope Francis makes his much-anticipated visit to Philadelphia, city and World Meeting of Families officials on Thursday provided updates on parking and transportation, as well as a 3D look at what the "Francis Festival" grounds will look like the weekend of the Papal Visit.
Chief of Staff Everett Gillison showed journalists a 3D walk-through view of the secure locations where the main Papal events will be taking place the weekend of Sept. 26 — including Benjamin Franklin Parkway from 20th Street west to the Art Museum, City Hall and Independence Mall. Gillison stressed that the majority of the fencing in secure areas will be simply bike racks used to contain crowds, with some higher fencing near security checkpoints the Secret Service will set up to screen ticket-holders before they enter secure areas.
Local
Breaking news and the stories that matter to your neighborhood.
Mayor Nutter said all security entrance points will be American Disabilities Act compliant and accessible.
Along the Parkway, 40 jumbotrons will be set up so that crowds — even those outside the secure perimeter — will be able to experience the Papal Mass and other events. Donna Crilley Farrell, executive director for the World Meeting of Families, said all Papal events, from Pope Francis' plane's arrival at Atlantic Aviation to the Festival of Families to the Papal Mass, will all be broadcast on the jumbotrons.
[[325499511, C]]
"With those jumbotrons, truly everyone will feel they are part of this historic event," Farrell said during Thursday's news conference.
She said the jumbotrons in Philadelphia will be used much like those in Rome that broadcast Papal happenings. "We are going to create that same spirit of enthusiasm, community and spirituality," she said.
On Wednesday, all 10,000 tickets for the Papal Mass on Benjamin Franklin Parkway were distributed in less than a minute online.
Food, beverage and merchandise vendors will be accessible outside the secure ticketed areas, allowing access to them without going through security checkpoints, officials said. The ticketed areas, according to Farrell, affect about three and a half blocks in the area of the Parkway, and from 20th Street east will be open to the public.
Farrell said the Papal Visit Playbook available at WorldMeeting2015.org/papalplaybook will be continuously updated with new information, and that The Philadelphia Inquirer and Philadelphia Daily News will each carry printed inserts of the Papal Playbook on different days next week. Transportation information is also available on the World Meeting 2015 website linked above.
Officials said that hotel rooms in Philadelphia are still available for the weekend of Pope Francis' visit.
"If you want to feel the full excitement of the city, plan to stay overnight," Farrell said. "There is still hotel availability, so plan to stay overnight and you'll be right in the heart of the Francis Festival."
Officials also touched on a number of logistical concerns, including resident parking, transportation, trash collection for city residents and drop-offs and pickups of supplies and trash for businesses within the "Francis Festival" grounds. Here's what officials had to say on those topics: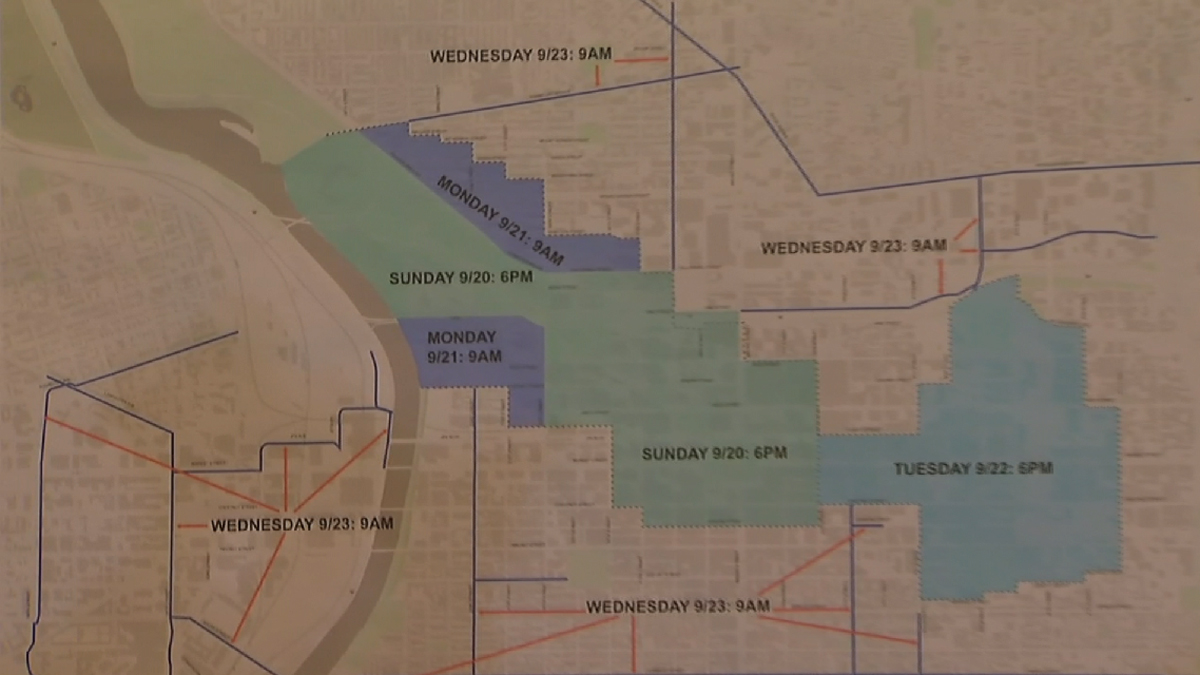 Transportation to and from Papal Events
"As we've said before, public transportation is clearly the best way to go," Mayor Nutter said.
Nutter said SEPTA has "doubled" the number of stations that will be open the weekend of the Papal visit. He said that the 8th Street and 34th Street stops on the Market-Frankford Line will provide the closest access to the "Francis Festival" grounds, and SEPTA Regional Rail passes for the weekend are still available at SEPTA.org.
Click here for a full story on SEPTA Papal Transit Passes.
Taxis with medallions, as well as PPA-licensed limousines, including Uber Black Cars, will be able to travel anywhere within the "Francis Festival" grounds until 2 a.m. the Saturday, Sept. 26 and beginning again at 3 a.m. Monday, Sept. 28, Nutter said.
Wheelchair-accessible vehicles, SEPTA CCT Connect and Uber wheelchair-accessible vehicles will not be restricted, he added.
Also, Nutter said bicycles are an option for traveling around festival grounds — but those cannot be brought through checkpoints into secure areas. He said that the city's Indego bike share program will have staffed stations at 19th and Walnut streets, Front and Dock streets and 30th Street Station that weekend to ensure that anyone who wants to rent a bike share bike is able to do so smoothly. Most other Center City stations, however, will be closed so that more bike share bikes can be brought to those locations to accommodate crowds. RideIndego.com/stations will have updated information, Nutter said.
"Once you're in Francis Festival grounds, if you have to walk somewhere, quite honestly, you won't have to walk very far," Nutter said.
Resident Parking
Residents who live within the secure vehicle perimeters will need to relocate their cars on a schedule designated by the city beginning Sunday, Sept. 20 — when the city will begin to tow vehicles from "Francis Festival" secure perimeters, Nutter said.
Nutter said towing in some areas will begin Sunday, Sept. 20, and all vehicles will be removed from the area — if they haven't been moved already — by Wednesday, Sept. 23 if they do not have special placards available through the Philadelphia Parking Authority that will extend that time.
The $20 placards, according to Nutter and the PPA, will have a dual purpose: They will extend the amount of time that cars in zones where it is indicated that vehicles need to move to 8 p.m. Thursday, Sept. 24, and they will allow vehicle owners to park them in designated PPA lots.
"Residents who purchase a spot in a garage will be given a placard ... the placard will exempt them from the towing schedule until Thursday night," Nutter said. "You can purchase the placard in advance and keep your car there as late as up to ... Thursday night."
The city released a map showing tow zones and the dates towing will begin.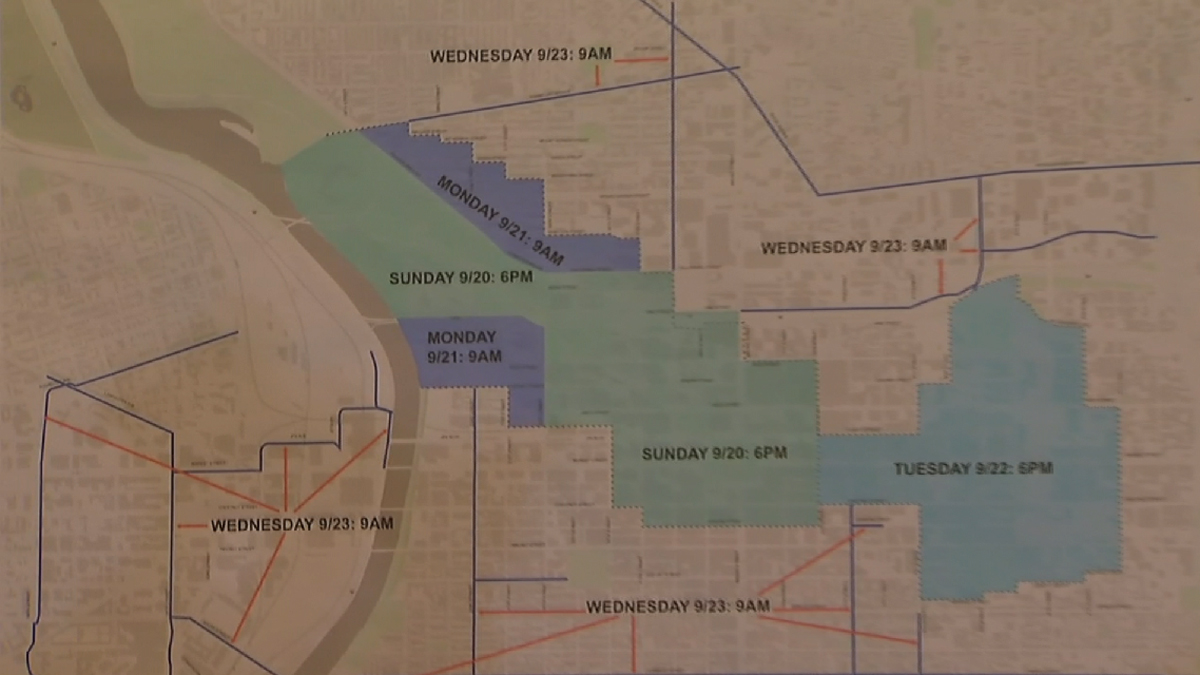 According to Philapark.org, the PPA's website, cars bearing placards will need to be moved into the garages by 8 p.m. Thursday, Sept. 24. The security perimeter and secured vehicle zone around the Parkway will go into effect at 10 p.m. that Thursday, and vehicles that are not removed will all be towed by that time. Towed vehicles are subject to a $76 fine, a $175 tow fee and storage fees, according to the PPA. If your vehicle has been towed, you can call 1-888-591-3636 and press 2 for information.
Residents can also utilize Luxe, a private valet parking service that will pick up your car for you and move it out of the car-free zone.
City Trash Collection
Trash collection citywide will be canceled on Friday, Sept. 25 and Monday, Sept. 28.
Businesses Within Festival Grounds
For the roughly 60 businesses located within "Francis Festival" grounds — with the exception of a small number within secure perimeters — Nutter said that vehicles 28 feet long or smaller will be able to make deliveries and trash pickups between midnight and 4 a.m. both Saturday, Sept. 26 and Sunday, Sept. 27 with no designated entry points.
For the businesses within the secure perimeters that need vehicles for trash pickup or deliveries, Nutter said, the Secret Service will need to screen any vehicles before they enter the areas. Nutter said owners of those businesses will be contacted directly by the city.
"Remember, you can always walk those deliveries [in] and therefore negate the need to have the actual vehicles screened," Nutter said, advising that if businesses can load items they need to bring in or out onto handtrucks, they can do that.
Nutter said the city will set up an information line for the weekend of the Papal visit, from 9 a.m. that Friday to 11:59 p.m. that Sunday, at 215-683-2100.
He said 3-1-1 will also be available for businesses, residents and visitors.