What to Know
James McCauley, 17, was arrested and charged with attempted homicide, aggravated assault, and other related offenses.
McCauley allegedly shot another teen who was trying to purchase marijuana from him at an intersection in Haverford Township.
The victim is in critical condition. Police are searching for two other people who were allegedly with McCauley during the shooting.
A teenage boy is in custody after he allegedly shot another teen in the face during what police describe as a marijuana purchase gone wrong on a Haverford Township street Tuesday night.
James McCauley, 17, was arrested and charged with attempted homicide, aggravated assault, recklessly endangering another person and other related offenses.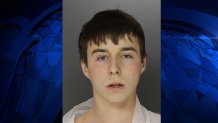 The incident began Tuesday around 8 p.m. at the intersection of Rose Tree Lane and Glen Gary Drive. Marquis Mays, an 18-year-old student and football standout at Haverford High School, along with another male, arranged to buy one ounce of marijuana for $150 cash from McCauley and two other people, police said.
Investigators say McCauley drove the car to the intersection and Mays entered the vehicle to buy the marijuana. During the drug deal however, one of the males in the back of the vehicle became aggressive with Mays and a physical fight ensued, according to police.
McCauley then allegedly pulled out a black semi-automatic pistol and shot Mays in the face as he tried to exit.
Local
Breaking news and the stories that matter to your neighborhood.
Responding Haverford police officers later found Mays lying on his back in the middle of the street with a large pool of blood around his head. He was taken to the hospital.
Investigators identified McCauley as the gunman. He was arrested at the house where he lives on the 100 block of Friendship Road in the Drexel Hill section of Haverford.
McCauley is not cooperating with authorities, Haverford Township police Chief John Viola said. His bail was set at $1 million.
Police are seeking at least two others who they say were with McCauley at the time of the shooting.
McCauley's mother spoke to NBC10 Wednesday, claiming her son was acting in self-defense.
"He was attacked," she said. "That's all I'm going to say."
McCauley's mother also apologized to Mays' family.
The victim remained in critical condition Wednesday afternoon with a bullet lodged in his neck. Viola said at a press conference that he had no update on the young man's condition, but added, "I did speak to his mother and she said he's holding his own."
At least three young people could be seen on surveillance video running away from the scene shortly after the shooting, police said.
Viola said a shooting over an ounce of marijuana is "ridiculous."
Both the victim and the suspect go to Haverford High, Viola said.
A handgun stolen in a house robbery last summer was allegedly used in the shooting, according to officials.