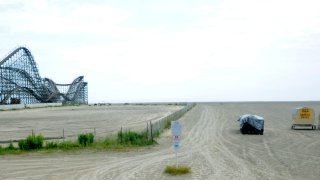 A 54-year-old man died Saturday after finding himself trapped in rough waters off Brick Beach in New Jersey Saturday evening.
According to Brick Township Police Department, the man was swimming at Brick Beach I when police received a call around 12:32 p.m. about a swimmer in distress.
Two surfers noticed him and were able to get his head out of the water, though they could not get him onto shore, Brick Sgt. Jim Kelly said in a statement Saturday.
The Coast Guard was later called to pull the man out of the water and transported him to the Hackensack Meridian Hospital, where he was pronounced dead.
The news comes after the National Weather Service advised against swimming on the beaches over the weekend due to the rough surf caused by the remnants of Tropical Storm Odette.
The identity of the victim is being withheld for the purposes of the family's privacy.