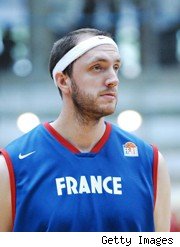 On Wednesday afternoon, Roy Halladay held a press conference shortly before the team's final game against the San Francisco Giants to announce what most of us already suspected: that he was injured, and that he needed shoulder surgery.

Officially, Doc has a bone spur in his right shoulder, along with a partial tear of the rotator cuff and a labrum that is somewhat frayed. If it sounds scary, that's because the words "tear" and "fray" aren't words you want to use to describe your throwing arm. But despite that, the prognosis seems rather positive for Halladay, who echoed the sentiments of his doctor when he said he might pitch again as soon as August or September.

During his press conference, Roy appeared to be at ease when speaking with the reporters about his condition. And it's hard not to understand why, given that it was probably the first time that he's been totally honest with himself, and with the media, about his health. There was no more "I feel good" or "I just need to make an adjustment" or "We are working on some things." It was the unadulterated truth, and Roy couldn't hide from it.

And now, the Phillies have to find a way to exist with Roy Halladay. But to be totally honest, they've been doing that ever since Game Five of the 2011 NLDS. Although he may have been physically present on the mound every fifth day, the Roy Halladay who tore through opposing hitters during his first two years in the National League is gone. And, at least for now, he's not coming back.

First, the good news. While it remains to be seen how effective Halladay can be coming off shoulder surgery and a lengthy rehab stint, the fact remains that his days pitching for the Phillies might not be over. Assuming the best-case scenario, then it's possible that Roy returns to make a few starts at the end of the season. And if the Phillies are lucky enough to make it back to the playoffs, then that's just gravy.

And if the doctors are able to "turn back the clock," then there is no reason to think that the Phillies wouldn't be one of the suitors for Doc in 2014. The good news about that is that, given his injury and the fact that he won't be in a position to command a high salary, the Phillies will certainly be able to consider bringing him back on an incentive-laden contract as he looks to rebuild his value as a starting pitcher. While other teams will certainly be vying for his services, I'd like to think that the Phillies will take the necessary steps over his rehabilitation period to ensure that Roy is aware that he'll always be welcome in Philly.

All things considered, this could have been much, much worse. Many of us wouldn't have been surprised if Roy's career was over, because it's not often that a 35-year-old starter comes back from shoulder surgery.

On that note, the bad news. Because ultimately, Doc is still having shoulder surgery, and that is still a very scary situation. As a starting pitcher, there are few things more important than the throwing shoulder, and regardless of how routine the surgical procedure is, let's not forget that someone still has to cut him open and poke around in there for a couple hours. Many a starting pitcher has come back from that, but plenty of others haven't, so it's crucial to realize that this isn't an automatic fix for Doc.

And if he does come back, it's important to manage expectations as best you can. Likely gone is the 220 inning horse that has darn near out-pitched everyone else who donned a uniform over the last decade.

Even then, there is no reason to think that he is a sure thing to pitch for the Phillies again in 2013. After all, it is shoulder surgery, and Halladay needs to recognize that he's no good to anyone if he tries to come back before he is ready. Ditto for the Phillies, who aren't going to force him to take the hill every five days when he returns to action.

On one hand, I'm glad that there is a reason to explain why Halladay has been so unlike himself lately. No one wants to see such a great talent like him burn out for no reason, so the fact that he was dealing with an injury that he can come back from is a partial relief, because it means that we aren't going to be closing the book on what has been an extraordinary career.

On the other hand, it's unfortunate that Doc's career in Philly is likely to end without an October parade down Broad Street. When he came to the Phillies at the beginning of 2010, his goal was simple: win a World Series in Philadelphia. While that dream isn't completely dashed, it's not looking good. And that might be the biggest tragedy of all.