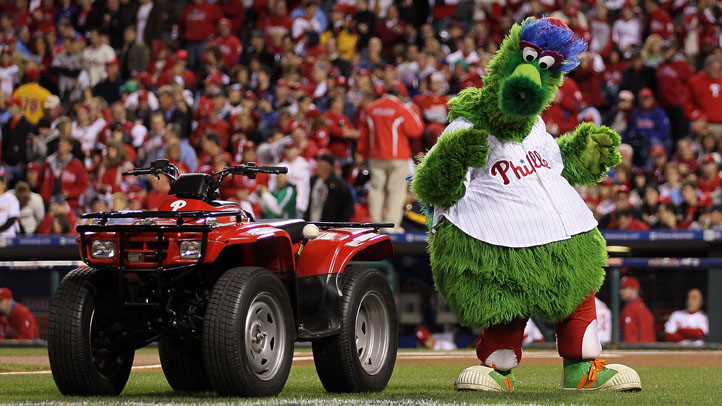 The Phillies are teaming up with the Pennsylvania Auto Theft Prevention Authority (ATPA) to host a unique Phillies Lock It! Event on Saturday, May 14, from 10:00 a.m. – 2:00 p.m. at Citizens Bank Park (rain or shine).
The free event offers one-stop shopping for fans wishing to protect themselves against auto theft.
Fans are invited to drive their cars to Lot P (off Darien Street) and receive a free VINetching – a proven theft deterrent, where the Vehicle's Identification Number (VIN) is chemically etched on to all windows of the vehicle. VINetching makes the vehicle more easily identifiable. Thieves looking to steal a vehicle to resell it or chop it and sell the parts, will have to replace all of the glass to remove all traces of the vehicle's identity. This process is costly, and therefore thieves usually pass on a vehicle that has been VINetched.
Local
Breaking news and the stories that matter to your neighborhood.
The service is free and takes about ten minutes to complete. VINetching is offered at dealerships and can cost several hundred dollars.
The first 2,000 participants will receive a free Phillies/ATPA car magnet. While the VINetching is being done, fans can win prizes, take photos with the 2008 and 1980 World Series Trophies, as well as the Phillie Phanatic and Phillies Ballgirls, who will be making appearances throughout the event. Snacks will also be provided, compliments of Herr's.
Michelle Staton, executive director of the ATPA, urges residents of Philadelphia and the surrounding areas to have their vehicles VINetched. "You are seven times more likely to have your car stolen in Philadelphia than in another part of the state," Staton says. "VINetching makes your car less likely to be stolen. And, it's one more weapon we can use to bring the theft rate down."
STATS ON AUTO THEFT IN PHILADELPHIA
Philadelphia's theft rate is 7-times higher than the average statewide theft rate.
Philadelphia's auto theft rate increased by 2% in 2010. This is a significant increase after more than a decade of either level or decreasing theft numbers.
The most frequently stolen cars are older, common models. Those car parts are expensive and in high demand. Thieves chop the cars and sell the parts. New vehicles should also be VINetched.
ABOUT THE PENNYLVANIA AUTO THEFT PREVENTION AUTHORITY
The Pennsylvania Auto Theft Prevention Authority was established by the General Assembly in 1994 to prevent, combat, and reduce auto theft through improved enforcement, prosecution, and public education. For more information about auto theft in Pennsylvania and 50 tips to prevent your vehicle from theft, visit www.watchyourcar.org.