BRIEF WARMING TUESDAY
Warm air surged northward and pushed places like Cincinnati, Ohio to a record 71 degrees Monday -- where the record was smashed by SEVEN full degrees.
Similar records were set all over the Midwest. That warmth will move into our area Tuesday, with some records possible.
Next month, however, will be a different story, if our most reliable models hold true. Simulations project a January that will afford our region multiple chances for snow as the middle of winter sets in. More on that in a bit, but first a look at this week and the New Year's Day weekend forecast.
Here are some of the existing records with a chance of being tied or broken Tuesday:
Philadelphia – 65 (set just last year)
Atlantic City – 67 (set in 2015)
Wilmington – 65 (2015)
Allentown – 59 (1949)
Trenton – 63 (2015)
Below is a computer model showing temperatures compared to normal for 2 p.m. Tuesday:
A BRIEF COLD BLAST
Later this week, the region will turn from warm to cold -- thought that actually means from near-record warmth to temperatures close to normal for this time of year. The average high temperature in Philadelphia for Dec. 31 is 41 degrees, and the average low is 27. The midnight temperature would normally be in between those numbers -- about 34. And that's exactly what we're predicting for New Year's Eve 2017. We're not expecting much wind, so the wind chill shouldn't be much lower than the actual temperature -- perhaps in the 28-30 degree range. Yes, that's cold, but we've seen way worse over the years.

For example, in 1962, the high temperature in Philadelphia on Dec. 31 was only 15 and the low was 3 degrees. Ouch.

THE JANUARY PATTERN CHANGE
After a mild November, December 2016 has featured a couple of arctic blasts. Officially, in Philadelphia, we had two mornings with lows in the teens (wind chills don't count in official records). Overall, temperatures will be slightly above normal, but about 12 degrees colder than last December. Total snowfall for the month has been a mere third of an inch. But that pattern is about to change as we head into January.

Here is the upper-air pattern for January 5th from "the best of the best," the European model ensembles. The model is run 51 times with slightly different initial conditions and the results are averaged. If we see strong features 10 days ahead with an ensemble run, it's pretty impressive. And it makes us pretty sure that this basic pattern will indeed develop. Other models show very similar solutions, so there is even more confidence.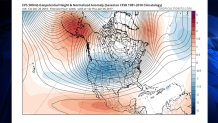 The area in red near Alaska (upper right) represents way above normal pressures (a "strong ridge"). Another strong ridge is in the North Atlantic, near Greenland (but not as strong as the Alaska ridge). In between pressures tend to be below normal (the blue colors). So, a "deep trough" extends from Central Canada into much of the U.S.

Here is the general temperature pattern at 5,000 feet altitude, which gives us a good idea about averages. We are in the colder than normal area, on the edge of the very cold air. In short, cold enough for snow.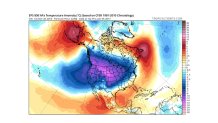 What about snow chances? Here is another model with a similar solution to the European-the American GFS model (yes, this time the models agree). Here is the GFS ensemble 7-day precipitation.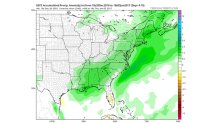 The wet area extends from near New Orleans up the East Coast. (Much of the rest of the country will be dominated by Arctic high pressure, keeping them dry).

So, our chances for snow start going up around Jan. 5. And as long as this pattern continues, on average, we would get multiple chances for snow. However, this is not necessarily a pattern for big snowstorms. Storms would be racing up the coast, limiting how many hours of snow any one storm would give us.

Let's see how this new pattern evolves. But don't expect the "quiet" weather of December to continue much longer.