Thelma Brown still can't pass the wedge-shaped plot of grass where Germantown and Allegheny avenues cross without squeezing her eyes shut.
A year after an out-of-control SUV fleeing a carjacking ran aground onto that patch of grass — plowing into Brown, her friend Keisha Williams and three of Williams' children, taking life and limb with it — the flashbacks the intersection stirs in Brown's tormented memory are too much for even the tough-as-nails North Philadelphia grandmother to bear.
"At one time, I couldn't even go around that corner," said Brown, 70, as she sat on the porch of her purple-painted brick row house on Hilton Street recently, motioning toward Germantown Avenue on the eastern edge of her block.
Brown, who's lived on Hilton Street since 1978, was the lucky one that day. She and Williams, 34, who also lived on Hilton, had gotten together that morning, along with three of Williams' five children, to set up a stand and sell fruit at the corner.
They hadn't been there long before the doomed white Toyota 4Runner that police say two men carjacked from a realtor at 6th and Cumberland streets barreled up Germantown Avenue, jumping the curb and careening into the group.
Williams' children, 15-year-old Keiearra Williams, 10-year-old Joseph Reed and 7-year-old Terrance Moore, were killed instantly. Williams, brain dead and broken, clung to the edge of life for two weeks before her sisters made the heart-wrenching decision to pull the plug on Aug. 7.
Local
Breaking news and the stories that matter to your neighborhood.
"It was devastating. She was never conscious," Sharmaine Williams, 33, Keisha Williams' younger sister, recalled this week. "We went in and pulled the plug, and she was dead."
Sharmaine has since taken custody of her sister's two surviving children, Charmaine, 12, and Aeisha, 14, and said she, her sister Rochelle, and the rest of the family are still struggling to come to terms with losing Keisha and her children.
"We're stressed out, depressed. We were so close. We're missing them so much," Sharmaine said. "I still have her phone number. I still have pictures of them on my phone and videos on my phone."
Rochelle Williams, 44, the oldest of the three sisters in the Williams family, wore a button with her niece and nephews' names on it on a recent afternoon as she opened up about the tragedy.
"I thought I was strong," Rochelle said, strands of her long, braided hair falling over her face. "But I wasn't strong for all that."
'I Don't Talk to Nobody About This'
Thelma Brown, after spending several months in a wheelchair, is back on the front porch of her purple row house, sitting like a sentry keeping watch over Hilton Street. She still experiences pain from the injuries she suffered in the crash — including a broken ankle and congestive heart failure from a combination of stress and the impact to her sternum — but she's happy to be alive.
"I just thank God that I'm still able to sit here," Brown said on a recent afternoon as her 2-year-old great-grandson, King Savion, buzzed gleefully around her on the porch. "If I hadn't moved that second, I'd be dead. I thank God I'm still here."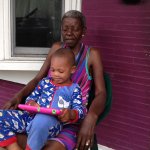 She recalled how one of Williams' little boys was helping her set up her tent, and she had her back turned toward Germantown Avenue when the 4Runner sped toward them.
"Just as I was getting around, I heard the noise and stepped to the side," Brown said. "I'm glad. I would've been dead, dead, dead."
She said she can remember seeing men run from the car after they wrecked. Still, she often can't get those images out of her mind.
Since the hit-run crash, Brown has been hospitalized six times — more than she ever had before in all her 70 years. She's dropped 50 pounds, she said recently, wearing a pink-and-purple-striped watercolor dress that hung on her fragile, skin-and-bones frame.
"I went to the doctor and they can't find anything wrong," Brown said. "It must be the stress."
For weeks on end after the crash, she couldn't eat — not even half a sandwich. She's been hospitalized for problems with her heart and twice for panic attacks: once when she tried to attend a vigil for Keisha and the children at Germantown and Allegheny and again when people came to clear their belongings out of the house where Keisha and her babies had lived on Hilton Street.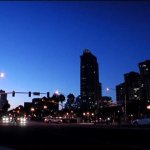 "She was a friend. She sat on my porch every solitary day. It's hard. I don't have nobody to sit on the porch with," Brown said of Keisha Williams, choking up, her eyes filling with tears. "I don't talk to nobody about this, because I scream, I cry."
A Memorial Celebration
Florine Barker, 36, a good friend of Keisha Williams, is planning to throw a memorial cookout and party at Germantown and Allegheny on Saturday, July 25 — the one-year anniversary of the tragedy — in memory of Keisha and her children. She and Keisha's sisters said an uplifting event, complete with games for children, cotton candy, hot dogs and hamburgers, is how the young mother would want to be remembered.
"Just to have it not be a sad occasion for the children," Barker said. The memorial barbecue is scheduled to run from noon to 6 p.m. that Saturday.
Barker and Williams' sisters said everyone is invited to celebrate the lives lost too soon.
A colorfully decorated memorial fence, painted with pictures of Keisha, Joseph, Terrance and Keiearra, and a small teddy-bear memorial now mark the spot where they were gravely injured. The fence also memorializes a young man from Hilton Street who died in a stabbing, neighbors said.
For the last vigil held in the immediate wake of the crash, hundreds packed the intersection, the Williams sisters said.
"It just touched a lot of people because it was kids," Sharmaine Williams said.
An unwavering Rochelle Williams — who oftentimes served as a rock for her younger sisters — recalled that the overwhelming turnout at the vigil for her slain loved ones hurled her into a panic.
"I thought it would happen to other families," Rochelle said. "Not mine."
As the two surviving sisters sat on the sofa at Sharmaine's North Philadelphia row house earlier this week, they flipped through a folder of dozens of photos of Keisha and the children, eventually coming to one used on the funeral pamphlet for little Terrance, Joseph and Keiearra. The three kids smiled back at their surviving aunts from the flat write paper, forever frozen in time.
"I feel alone a lot of the time," Sharmaine, who wore a T-shirt emblazoned with the children and her sister's pictures, said quietly. "We didn't get time to grieve. I'm grieving now. It seems like it was yesterday."
'God Will Judge You'
As for the men who police say are responsible for the carjacking that led to the terrible sequence of events that claimed four lives and devastated countless others, 24-year-old Cornelius Crawford and 20-year-old Jonathan Rosa, a trial is upcoming. Both are scheduled to appear for a pretrial conference hearing Tuesday morning, but their cases have been granted multiple continuances over the last several months.
Both men stand charged with murder, aggravated assault, conspiracy, kidnapping, sexual assault — for allegedly raping the 45-year-old Realtor in her SUV they carjacked — and a slew of related offenses.
"I hope they pay for what they did," Rochelle Williams said.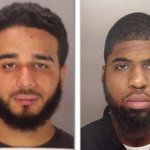 Brown said she has faced the men in the courtroom once already, at their preliminary hearing, and though looking into the eyes of the heartless men who nearly killed her was jarring, she plans to attend all of their court appearances.
The woman said she doesn't wish physical harm on the men, like many in the neighborhood and around the city did in the wake of the carnage they allegedly caused.
"The only thing I can say to them is God will judge you. That's all I can say," Brown said. "I don't want nobody to do nothing to them, nothing at all, because I want them to live with what they did and with their regrets."
Anyone wishing to donate items or services for the July 25 memorial cookout should contact Florine Barker at 215-407-6170 or 267-808-4612.
---
Contact Morgan Zalot at 610.668.5574, morgan.zalot@nbcuni.com or follow @MorganZalot on Twitter.