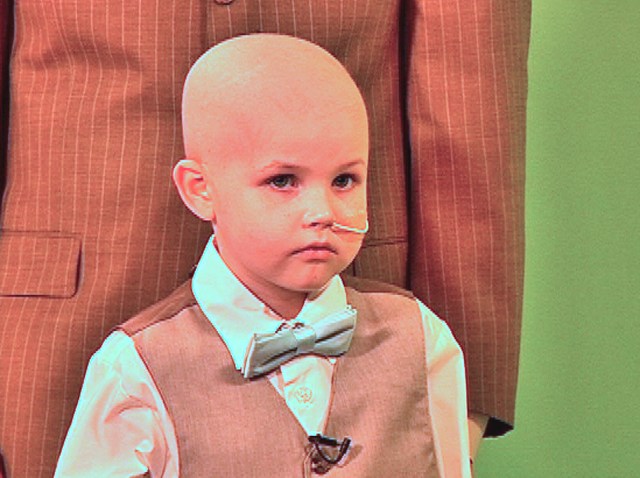 Little Ricky McAvaddy loves the weather -- sun, rain, lightning, thunder -- you name it, he's fascinated by it. But it's hurricanes that really excites the six-year old from Mays Landing, New Jersey.

It's his dream to one day study the incredible forces of nature as a meteorologist, but before Ricky's AMS certified, he must weather a storm of his own.

You see, Ricky is battling something no child should ever have to experience -- leukemia.

Originally diagnosed in October 2006, Ricky underwent three and a half years of aggressive treatment to eradicate the disease. His doctors were impressed at how well the cancer responded to the regimen, predicting a full recovery.

But in April of this year, the cancer came roaring back -- thrusting him and his family back into another tour of relentless treatment.

"It kinda kicked us in the gut," his mother Jamie said. "Not once, but twice."

Because of the vigorous methods used to help Ricky take on the cancer, he's usually confined to the walls of the Children's Hospital of Philadelphia or his home. So when a local organization offered the opportunity for the weather buff to meet his favorite meteorologist and tell the weather on live TV -- he couldn't say no.

Dressed in a beige suit and baby blue bow tie and with his parents and little sister Kate in tow, Ricky walked into the NBC10 Studios ready to talk cyclones with Glenn "Hurricane" Schwartz.

"Since he was three he's always been interested in the weather," said Rick, Sr. "He's never said 'I wanna be a superhero'...its always been a weatherman and now, believe it or not, its a meteorologist."

After the two swapped weather war stories, it was showtime. Ricky mastered the unappreciated art of green screen maps, educating the entire Delaware Valley about the day's temperatures.

Cheers and tears followed as Ricky's dream was realized. "I couldn't have been more proud," Jamie said with a shaky voice. "He did wonderful."

"I think he did great," said his new buddy Glenn. "He was nervous, as we all are the first time we go on TV, but he knew where to point and he knew the numbers which is pretty good for a six-year old."

When asked how he felt about educating people about Mother Nature, Ricky shyly said he "liked it."

"Anybody who has that kind of an interest at that early an age really does have a future because almost all of us who are meteorologists start off as children with an interest like that in weather," said Glenn.

Ricky will undergo another two years of treatment to beat the cancer a second time. "He's tough," said Jamie and "so brave" adds his father.

We know he will win this battle.
You can help defray the cost of Ricky McAvaddy's large medical bills by taking part in a fundraiser Saturday.
Ricky's Rainbow Fund Benefit
Food, music and games will be part of the event.
Local
Breaking news and the stories that matter to your neighborhood.
Saturday, August 15, 2009
Max Manning Complex
Park Avenue
Pleasantville, NJ
Time: Noon - Dusk
Cost: $20 adults, $10 kids 12 and under
If you can't make it to the event, you can still help by donating to Ricky's Rainbow Fund c/o Doni Bettis, PO Box 1841, Abesecon, NJ 08201.