RECORD WARMTH TO WINTER TEMPS
There were a couple of high temperature records set Thursday. Wilmington, DE smashed their record of 63 set in 1913. They got up to 68 degrees. At the Atlantic City airport, their record also was 63 set in 1913. They got up to 67 degrees. In Philadelphia, it reached 67, but the record was 72.
After freezing temperatures Friday night, it will feel like the 20s much of the day Saturday. That's not nearly as bitter cold as last weekend, but closer to "normal" for January.
Local
Breaking news and the stories that matter to your neighborhood.
THE SNOW THREAT
This is not a big, nasty Nor'easter. It's not even a well-organized "Clipper"-type storm. This actually has more to do with HIGH pressure than low pressure. So don't look at your barometer for any clue to the threat of snow around here for Saturday.
Here is the predicted weather map for Saturday at 7 a.m. from one of the Canadian models.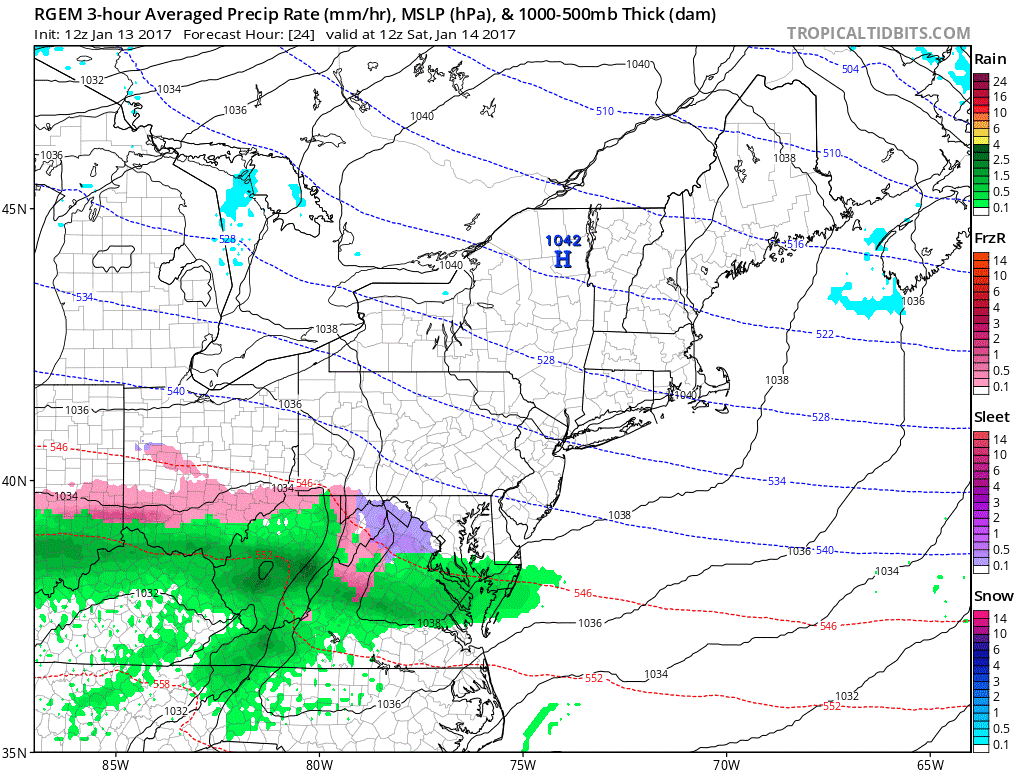 You won't find any "L"'s on the map-not even a weak one. Instead, there's a big, bad "H" over upstate New York. The number 1042 next to the "H" tells us how strong the HIGH is. The 1042 is in "millibars", which is the unit meteorologists use to track HIGH and LOW pressure systems. That 1042 is a very high number. If you had one of those old-fashioned barometers, it would tell you that "FAIR" weather is coming. Not this time.
Atmospheric pressure isn't about absolutes as much as it's about RELATIVE numbers. The lower pressures in West Virginia aren't very low, but they are much lower than in the middle of the HIGH. So what happens? The precipitation that you see on the map moves toward the HIGH and will weaken as it moves into the dry air that comes with the HIGH. By 1pm, the HIGH is centered over Long Island, and a small area of snow (blue) is approaching our area. Since Delaware and extreme South Jersey are farther away from the HIGH, those areas have the best chance of any snow accumulation.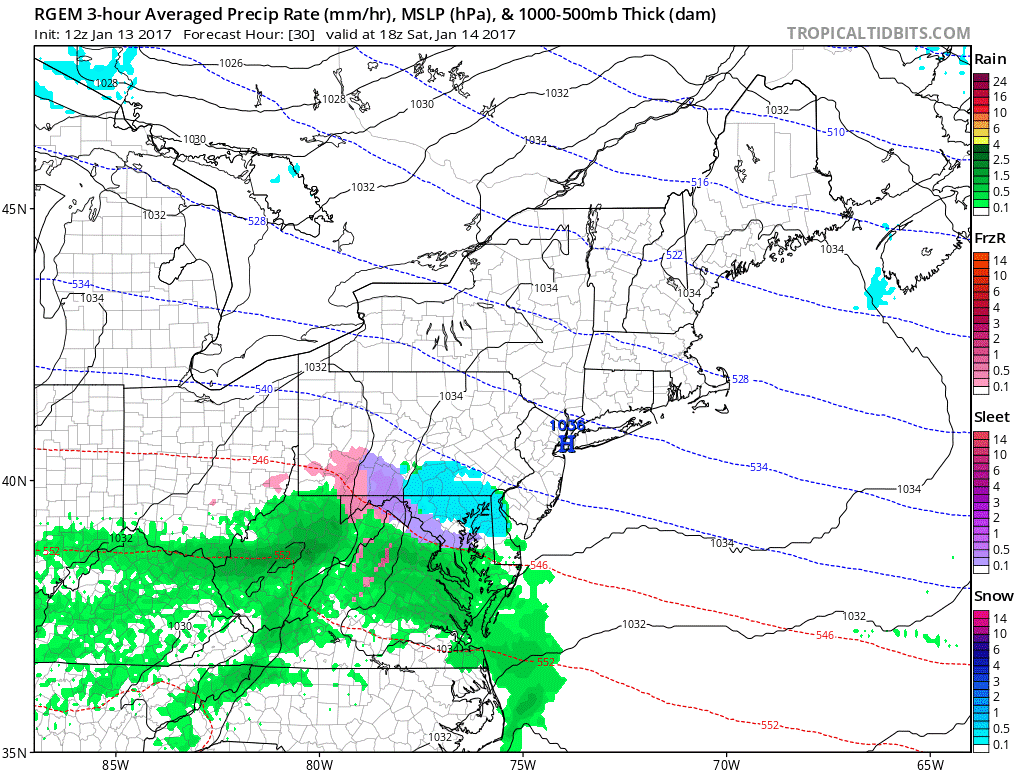 These maps are even less impressive than they were yesterday. The trend continues for it not even to be a "nuisance". Here's why:
1. Less precipitation expected
2. Starts well after sunrise, when it would be cold enough to stick
3. Early dryness allows temps to go above freezing
4. Lighter snow won't cool off the surface very much
It all adds up to not needing to change plans for Saturday, which is what we said yesterday. Of course, things can change in the next 24 hours, but that is what weather updates are for. We'll be watching it closely for you.