We're into our fifth heatwave of the season and the hottest days are still to come.
We hit 97 degrees in Philadelphia on Friday, but that felt like 108 degrees. It was even worse in Dover, where the heat index flirted with 120 degrees.
Saturday will be a degree or two hotter, with a similar set up for afternoon storms. They will be isolated, and mainly confined to the Pennsylvania Suburbs and Lehigh Valley.
This weekend will be fairly stormy for the Poconos, so that may not be the best place to head to to duck out on the heat. Make sure you're weather aware, as the middle of a lake is the last place you want to be when a thunderstorm is approaching.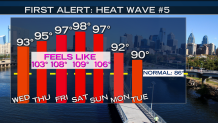 We will cool off by a degree or two for Sunday, but it will be just as sticky. Don't plan on any physical outdoor activities. Even at the coldest point in the day, just before sunrise, the temperature will be about 81 degrees in Philadelphia, which is about 4 degrees shy of the normal daytime high.
We're back into the low 90s for Monday and finally into the 80s by Wednesday. The humidity sticks around, however.
We've got a thunderstorm chance pretty much every day next week.