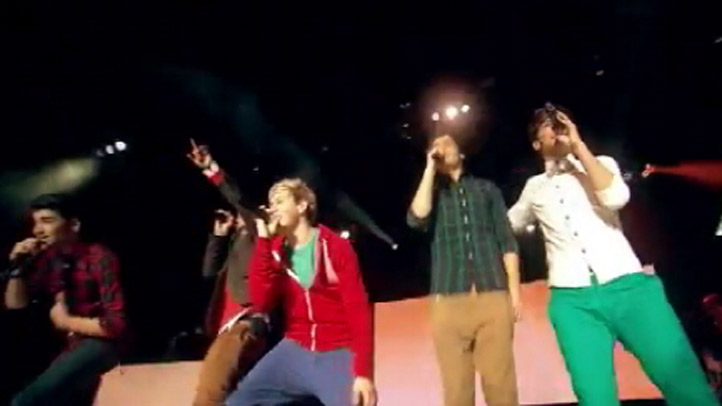 Dozens of fans of One Direction are heartbroken after a big mistake stopped them from meeting the popular boy band face to face.

Last April, Jenny Louis and her friend bought ultimate VIP tickets for $350 to see One Direction live at Hershey Park Stadium next year.
"We were so excited," said Jenny. "We couldn't even believe we had gotten these tickets."
The package included a meet and greet with the band.
Local
Breaking news and the stories that matter to your neighborhood.
Early in October however they received an email saying they would no longer meet the band because the ultimate VIP tickets had been oversold.
Jenny started a Facebook page, a petition and posted a YouTube video to try and get the meet and greet back.

Hershey Entertainment officials admit they made a mistake. They say they sold 185 VIP packages with the meet and greet when they were supposed to sell only 40. A spokesman for Hershey Entertainment released the following statement:
The Company feels terribly about the error that occurred whereby our venue mistakenly classified the two VIP packages under the same category for the July 6, 2013, One Direction Concert in Hershey. We are deeply sorry that such an error occurred - resulting in the over sale of 135 VIP Meet and Greet packages, and we certainly understand that the fans involved are very disappointed.

As an earlier communication to those impacted indicated - all VIP amenities, with the exception of the meet and greet, will still apply to the VIP packages over sold for the event. Further, we will be refunding the difference in price ($100.00) between the "Ultimate VIP Package" and the "VIP Package." In addition, Hersheypark Stadium is refunding $79.50 per ticket purchased, along with providing those affected with one complimentary admission ticket to Hersheypark, valid for a one day entry, during the 2013 regular operating season, to apologize for this ticketing error. Of course, we will extend the offer of a full refund -- if desired.

The VIP PACKAGE includes:
One reserved ticket in the first 15 rows
Visit to One Direction soundcheck
VIP commemorative laminate
Specially designed One Direction tour shirt
Collectible One Direction tour poster
Exclusive One Direction gift bag
Early entrance into venue
Crowd-free merchandise shopping
On-site VIP host

Again, we certainly understand this is a difficult situation for our guests, and we do sincerely apologize for the frustration that has occurred.
But some One Direction fans aren't satisfied with the refunds.

"Nothing will make up for taking that away from us," said Jenny.

The mistake was not the fault of the band One Direction or their management. One Direction also agreed to do ten extra meet and greets with fans.