A Wilmington man was arrested Tuesday after police say a gun he illegally had in his possession went off and struck his girlfriend's 10-year-old son in the head.
Jaleel Goldsborough, 24, was arrested and charged with possession of a firearm by a person prohibited causing injury or death to another person.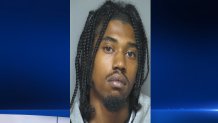 On Monday around 1:50 a.m. police responded to a home on the 700 block of Townsend Street for a report of a shooting. When police arrived they found the 10-year-old boy, named Mehki, who had been shot in the head.
The boy was treated at the scene by paramedics and taken to A.I. Dupont Children's Hospital where he underwent surgery. He is currently in critical but stable condition. Tuesday night around 20 people showed up at a vigil to pray for Mehki's continued recovery.
"Great kid," said Perry Davis of the Stop the Violence Prayer Chain Foundation. "Athletic, a go-getter, a fighter. Never liked to lose, So he's gonna fight through it."
While police announced Goldsborough's arrest they have not yet revealed what led to the shooting or whether or not it was accidental. Late Tuesday afternoon police officers entered a home a few doors down from where Mehki was shot and took another man into custody. They have not yet revealed how he is connected to the shooting however.