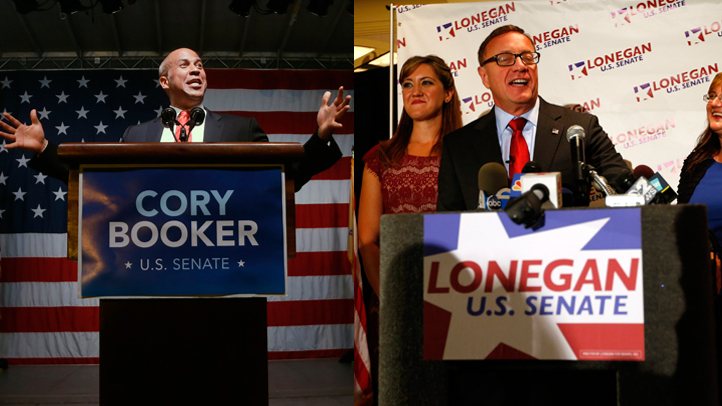 A fired-up but hoarse Democrat Cory Booker and a confident Republican Steve Lonegan on Sunday headed into the final days of their race for a U.S. Senate seat in New Jersey.
WATCH: Booker and Lonegan Square Off
Booker, the mayor of Newark, toured the state by bus, bringing with him Democratic National Committee chairwoman Debbie Wasserman Schultz and U.S. Sen. Robert Menendez to canvass voters. The candidate's photo appeared on the outside of the vehicle as they traveled.
Local
Breaking news and the stories that matter to your neighborhood.
In Wood-Ridge, Booker told a crowd that New Jersey voters have a special opportunity to vote during the federal government shutdown.
"We have a chance with our voice to send a message to Washington whether we endorse the tea party and their shutdown politics or do we say, `No, not here in New Jersey, not in this nation, not in Washington, D.C.,''' Booker said. "We want leaders who will be leaders.''
Lonegan spoke in the morning at a New Jersey offshoot of the Million Vet March in Washington, D.C. He told The Associated Press his campaign is "cresting'' and he expects to beat Booker.
"It's not a longshot. We're going to win on Wednesday,'' Lonegan said. "We have the political message and the environment is ripe for change.''
The appearance of Wasserman Schultz comes one day after Lonegan held a rally with former vice presidential candidate and ex-Gov. Sarah Palin of Alaska. The rally at the New Egypt Speedway was put on by the Tea Party Express.
The visits show increased national interest in a race where Booker still holds a double-digit lead over Lonegan, but polls have tightened in the past few weeks. Voters go to the polls Wednesday in the special election to fill the remaining 15 months of the late Sen. Frank Lautenberg's term.
In an interview on his campaign bus, Booker told the AP that Lonegan has ``terrified'' Democrats.
"The threat of having this guy represent New Jersey, I think, is animating a lot of people, including Republicans who are out there working for us,'' Booker said.
While not mentioning Lonegan by name, Booker said he is trying to draw a "clear contrast between the tea party candidate for New Jersey and the mainstream guy.''
Wasserman Schultz said she was in New Jersey for good reason. "And that is to make sure that the right wing extreme tea party values that have crept into the soul of our nation's capital are squelched, and we can do that by ensuring Cory Booker is America's next United States senator,'' she said.
Lonegan, who previously supported the government shutdown, said the shutdown should end, but only if President Barack Obama "compromises and delays Obamacare.'' He insisted he is running as a Republican, not a tea party candidate, despite Saturday's Tea Party Express rally.
Lonegan is former Bogota mayor and once was state director of the anti-tax group for Americans for Prosperity. He said he has sent campaign surrogates to places of worship throughout New Jersey.
"I'm the Republican candidate,'' he said. "There's no tea party. It doesn't exist. The tea party is just a movement.''
He said he stands by his decision to fire top campaign adviser Rick Shaftan, who bashed Booker in a profane interview and questioned his sexuality.
"When people do stupid things, you fire them,'' Lonegan said. "I don't tolerate that kind of language. I thought it was disgusting.''
Booker said Shaftan's comments were "profoundly disrespectful to women, gays and lesbians.'' He also criticized Lonegan's claims during a debate that the Passaic River, which runs through Newark, is clogged with the bodies of crime victims.
"I was literally stunned that a candidate for one of the highest offices in the United States of America would talk about an American city like that,'' Booker said.
Copyright AP - Associated Press