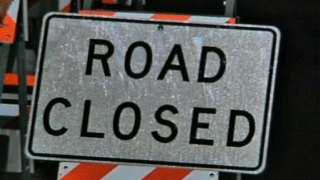 Street closures continue Sunday in Center City as crews move heavy construction equipment.
The following streets will be closed until 3 p.m., according to the Philadelphia Streets Department.
Walnut Street from 17th Street to 19th Street
18th Street from Locust Street to Sansom Street
Sansom Street from 17th Street to 19th Street
Police are on site to direct drivers and pedestrians around the area. Residents are urged to plan ahead and use alternate routes when traveling in the area.
Along with the street closures in Center City, detours are also in effect for trucks in the Fishtown and Port Richmond sections of the city. All local truck traffic will be detoured until midnight for the Delaware Avenue Extension Project. Trucks are currently being detoured from Delaware Avenue to Lewis Street, to Richmond Street and back to Orthodox Street. Officials with Transco-Williams Gas are performing required testing of their new gas main beneath the new section of Delaware Avenue.
Officials say the Delaware Ave. Extension Project is intended to provide better access for existing businesses in the area, extend the Delaware River trail across Frankford Creek and relieve nearby residential streets of commercial traffic. Construction is expected to be completed by November this year. Funding for the project is coming from federal grants and City Capital funds.

Published at 7:06 AM EDT on Aug 24, 2014 | Updated at 7:08 AM EDT on Aug 24, 2014