A Philadelphia man has confessed to shooting his 4-year-old daughter in the face before punching another sibling and fleeing his home, homicide detectives said.
Maurice Phillips was denied bail at a Monday arraignment as he faces third-degree murder, involuntary manslaughter, reckless endangerment and related charges, according to court documents.
Phillips confessed early Sunday morning to shooting Tahirah Phillips in the face inside the front bedroom of the family's home along Mayfield Street near B Street just before 2:30 p.m. Saturday, police said.
The girl's six siblings, ranging in age from 7 months to 13 years old, were also in the room watching TV and playing when their sister was shot. After the shooting, police said Phillips got off the bed and punched his 5-year-old daughter and wiped blood from his hand onto the girl's shirt.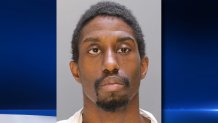 Phillips moved the 4-year-old's body to a back bedroom and called his fiance and told her to come home, police said. When she got there, Phillips got changed and left.
Phillips allegedly told police he was handling his semi-automatic handgun and accidentally shot his daughter. Police had initially believed that the little girl's 5-year-old sibling had found Phillips' gun and accidentally shot her.
Police worked to sort out if Phillips' claim that the shooting was an accident held up.
Investigators said Phillips fled the scene after the shooting. He later surrendered to police and remained in custody Sunday morning. Police also recovered the weapon, a .45 caliber semi-automatic handgun, at the scene, officials said.
News of the little girl's tragic death left neighbors in the community plagued by gun violence reeling.
"She was full of life," said Crystal Dougherty, a family friend, as she wept near the scene of the shooting. "She was always willing to help. She was a great big sister to her little brother."
Local
Breaking news and the stories that matter to your neighborhood.
During a vigil for Tahirah Monday on East Mayfield Street, friends, neighbors and strangers embraced each other and showed their support for her family. They released balloons into the sky while shouting, "We love you Tahirah."
Tahirah's grandfather Donald Myers was in tears while he addressed the crowd.
"It really hurts," he said. "For real. I mean this is crazy."
Myers condemned Phillips and called for an end to violence in his community.
"He shouldn't have did that," he said. "That was a 4-year-old girl who never went to school! This should stop for real! It has to be stopped! We're getting too old for this! We've got to stop killing each other!"