A Delaware County sheriff's officer suffered second-degree burns after being hit by a Molotov cocktail while serving a warrant in Collingdale Wednesday afternoon, police said.
The officer was attempting to serve the warrant around 4:30 p.m. at a home along the unit block of S. MacDade Boulevard when a man inside the home threw the incendiary device, officials said.
Collingdale Police Chief Robert Adams said the officer's left leg caught fire. Fellow officers immediately dropped him to the ground to put out the flames.

Officials initially said two officers had been burned, but later revised their statement to a single officer injured.

The suspect, identified by police as Jeromy Jones, then barricaded himself inside the home. A brief standoff ensued with police eventually coaxing Jones to surrender about an hour later.

The injured officer was taken to Crozer-Chester Medical Center for treatment. He suffered second-degree burns to most of his leg, Adams said. The officer was last listed in stable condition.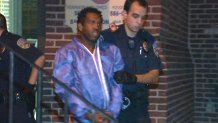 When police searched the house, they found as many as seven Molotov cocktails inside. They were filled with gasoline and had a fuse, police said. Officers later set the devices on fire in a parking lot to destroy them.
"I never tried to kill anybody," Jones said as he was led to a police SUV headed for the Delaware County jail.

A judge Thursday morning arraigned Jones on multiple counts each of attempted murder, reckless endangerment, arson and aggravated assault. Jones was sent to jail on $1 million bail.