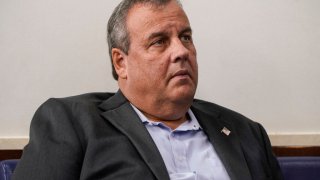 Former New Jersey Gov. Chris Christie has been discharged from a hospital, days after he was admitted due to a coronavirus infection.
Christie tweeted out the news Saturday following his diagnosis last week. He previously said he was experiencing "mild" symptoms and was admitted to the hospital as a precaution.
"I am happy to let you know that this morning I was released from Morristown Medical Center," Christie said in part. "I want to thank the extraordinary doctors & nurses who cared for me for the last week. Thanks to my family & friends for their prayers." He added that he would reveal more information next week.
Christie was one of several people within President Donald Trump's inner circle, including the president himself and fellow Republican politicians, who were recently diagnosed with COVID-19.
The former New Jersey governor was also part of the president's debate prep team. He noted a lack of mask wearing during the preparations.