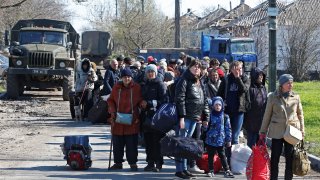 This was CNBC's live blog tracking developments on the war in Ukraine. Click here for the latest updates. 
Ukrainian officials say another mass grave has been discovered in Vynohradne — a village east of Mariupol. U.S. defense contractor Maxar also said satellite imagery of the Mariupol area showed "the existence of a second cemetery that has expanded over the past month."
Russia has for the first time disclosed its goal to fully control Ukraine's eastern Donbas region as well as southern Ukraine, as part of the second phase of its invasion.
German Chancellor Olaf Scholz says his top priority is avoiding a Russia-gNATO confrontation, and that he doesn't believe an EU embargo on Russian gas would convince President Vladimir Putin to end the war.
Mariupol's mayor is appealing for a full evacuation of the embattled city after attempts to get civilians out safely via humanitarian corridors have mostly failed. Ukrainian officials say satellite images captured by Maxar show mass graves 20 times bigger than a cemetery discovered in the city of Bucha this month.
United Nations Secretary-General António Guterres said Russian President Vladimir Putin and Russian Foreign Minister Sergey Lavrov agreed to meet him in Moscow next week.
Ukrainian officials say another mass grave was discovered near Mariupol
Ukrainian officials say another mass grave has been discovered near the devastated southern port city of Mariupol.
Petro Andriushchenko, an advisor to Mariupol's mayor, said in a Telegram post that there was "new information about the mass burial of dead Mariupol residents" in Vynohradne — a village about 7 miles east of Mariupol.
"This confirms again that the occupiers arrange the collection / burial / cremation of the dead Mariupol residents in every district of the city," he said, accusing Russia of trying to "hide the consequences of war crimes."
Separately, U.S. defense contractor Maxar said that high-resolution satellite imagery of the Mariupol area "reveals the existence of a second cemetery that has expanded over the past month and includes several long trenches that are/will likely become new grave sites."
CNBC and NBC were not able to independently confirm those claims, and Russian officials have yet to respond to CNBC queries about those allegations.
— Joanna Tan
Russia will continue bombardment until 'new methods of warfare' are introduced, UK says
Russia will likely "continue to be frustrated" by its inability to overcome Ukrainian defenses quickly, according to British intelligence.
Russia's Defense Minister Sergei Shoigu has said he will introduce "new methods of warfare" — a "tacit admission" that the war is not progressing as intended, the U.K. Defense Ministry said in a tweet.
Moscow new plans will take time to implement, and until then, "there is likely to be a continued reliance on bombardment as a means of trying to suppress Ukrainian opposition," the report said.
— Joanna Tan
Zelenskyy says allies are delivering the weapons Ukraine wanted
Ukrainian President Volodymyr Zelenskyy said allies were finally delivering the weapons that Kyiv had asked for, adding the arms would help save the lives of thousands of people.
— Reuters
A look at the $3.4 billion in weapons the U.S. has committed to Ukraine's fight
From heavy artillery to tactical drones to armored vehicles, the U.S. has provided $3.4 billion in weapons to Ukraine since Russia's invasion in late February.
The latest security package of $800 million, which is the eighth installment of aid, comes after eight weeks of war and as Russian forces prepare for a renewed fight in the east and south of Ukraine.
Read more about the firepower the U.S. is sending to the fight in Ukraine.
— Amanda Macias
Pentagon concerned about Russian cyberattacks as Moscow mounts new offensive in Ukraine
Pentagon spokesman John Kirby said the U.S. is concerned that Russia could unleash malicious cyber campaigns amid its war in Ukraine.
"We have seen what the Russians are capable of doing in cyberspace and what they want to achieve, whether that's in malware, whether that's in hard cyberattacks or whether it's in the spread of disinformation, through social media in cyberspace," Kirby said during a daily press briefing.
"They have proven that they have a certain agility in cyberspace and we want to make sure we're ahead of that," Kirby added.
Kirby's comments come as cybersecurity authorities warn that intelligence indicates the Russian government is exploring options for potential cyberattacks on critical infrastructure networks. The joint warning from the U.S., Australia, Canada, New Zealand and the United Kingdom said that a cyberattack "may occur as a response to the unprecedented economic costs imposed on Russia."
The advisory, which comes from members of the "Five Eyes" intelligence-sharing group, said that a malicious attack could occur as retaliation for providing security assistance to Ukraine.
The group urged those responsible for defending critical infrastructure networks "to prepare for and mitigate potential cyber threats—including destructive malware, ransomware, DDoS attacks, and cyber espionage."
— Amanda Macias
Bipartisan U.S. lawmakers slam 'fabricated charges' against Putin critic Kara-Murza
The leaders of the Senate Foreign Relations Committee called on Russia to release Vladimir Kara-Murza, a Russian opposition politician who was detained after criticizing Vladimir Putin's government and now faces charges that could keep him imprisoned for years.
"The Putin regime's new fabricated charges against Vladimir Kara-Murza are a testament to Putin's deeply held fear of the Russian people knowing the truth," Chairman Sen. Bob Menendez, D-N.J., and ranking member Sen. Jim Risch, R-Idaho, said in a statement.
"Kara-Murza's efforts to shine a light on the Russian regime's atrocities in Ukraine are the latest in his lifetime dedicated to exposing the truth by providing unbiased reporting for the Russian people and the world, and by building international consensus around tools to hold the Putin regime to account," Menendez and Risch said. They called on the Kremlin to "release Vladimir and all those detained for fighting on behalf of a better future for their country."
Kara-Murza is accused of violating a recently enacted law outlawing the spread of false information about the Russian armed forces, according to statements posted to social media on Friday by his wife, Evgenia Kara-Murza, and his lawyer, Vadim Prokhorov. The update to the criminal code, known as article 207.3, carries a 15-year maximum prison sentence.
Human Rights Watch leader Hugh Williamson decried the "fake news" law as being "part of Russia's ruthless effort to suppress all dissent." Amnesty International called the criminal investigation against Kara-Murza "an act of political poison that seeks to terrify and silence all opponents of Vladimir Putin's war in Ukraine." Evgenia Kara-Murza wrote on Twitter that her husband faces years in prison "for saying no to Putin and his bloody war!"
Russian court documents reportedly accused Kara-Murza of spreading false information about the Kremlin military when he spoke to the Arizona House of Representatives last month. The Arizona House Democrats' official Twitter account called Kara-Murza's treatment "abhorrent and disgraceful."
Kara-Murza has survived two suspected poisoning attempts, and has been described as one of Russia's most important dissidents. He was detained on April 12, shortly after CNN published a video in which the dissident described Putin's power apparatus as "a regime of murderers." Another opposition figure, Ilya Yashin, reported at the time that Kara-Murza had been jailed for 15 days. Yashin said on Twitter that the police report in Kara-Murza's case alleged that he "behaved inappropriately, changed the trajectory of movement and accelerated his step."
— Kevin Breuninger
UN Secretary-General set to meet Putin in Moscow next week
United Nations Secretary-General António Guterres will meet with Russian President Vladimir Putin and Russian Foreign Minister Sergey Lavrov in Moscow next week.
The April 26 meeting comes on the heels of a formal request by Guterres on Wednesday to meet separately with Putin and Ukrainian President Volodymyr Zelenskyy in their respective capitals.
A spokeswoman for Guterres said the request was made in letters delivered Tuesday afternoon to the U.N. Permanent Missions of the Russian Federation and Ukraine.
"The Secretary-General said, at this time of great peril and consequence, he would like to discuss urgent steps to bring about peace in Ukraine and the future of multilateralism based on the Charter of the United Nations and international law," wrote U.N. Secretary-General spokeswoman Stephane Dujarric in a Wednesday statement.
"He noted that both Ukraine and the Russian Federation are founding members of the United Nations and have always been strong supporters of this Organization," she added.
— Amanda Macias
Yellen, Lagarde say Russia-Ukraine war will prolong inflation
Treasury Secretary Janet Yellen and European Central Bank President Christine Lagarde spoke with CNBC about the economic consequences of Russia's invasion of Ukraine, including the ongoing rise in commodity prices and broader inflation.
Yellen said the U.S. government's March inflation of 8.5% over the previous year could be the high point.
"It may have peaked, but look: Inflation has been high and I think the shocks emanating from this unjustified attack on Ukraine will prolong inflationary pressure," Yellen said. "The outlook is uncertain. As you know the Fed is taking steps to bring inflation down, but I think we'll have to put up with high inflation a while longer."
Lagarde offered details on the path the ECB is currently planning to keep inflation in check in Europe.
"We will stop net asset purchases in due course," Lagarde said. "And then we will look at interest rates. … It's not fixed and set yet as to exactly when we do that. But the journey has been approved unanimously at our last monetary policy governing council meeting."
— Thomas Franck
White House says Europe determined to close off Russian energy exports
A senior White House adviser said he is confident Europe is determined to close off or further restrict remaining Russian oil and gas exports as Moscow's war in Ukraine drags on.
"I have confidence that Europe is getting the message and they are determined to close off this last source of export revenue," Daleep Singh, deputy White House national security adviser, said in an interview with CNN.
Oil exports are the Kremlin's main source of foreign currency and many within the European Union have called for an end to oil payments because they effectively finance Russia's war in Ukraine.
Gas is also another major source of revenue for Russia, but its ban has not yet been properly discussed at the EU level because of the bloc's reliance on it. Singh, the White House's point person for sanctions on Russia, said discussions on the topic are ongoing.
"It's important that they do this as soon as they can. And to do it in a way that's smart," he said.
— Reuters
U.S. lawmakers ask State, DOD to set up field hospitals for Ukraine
A bipartisan group of U.S. lawmakers is calling on the Biden administration to establish field hospitals near Ukraine's border and ramp up medical support for what's expected to be a monthslong war of attrition waged by Russia.
Forces aligned with Ukraine have suffered thousands of casualties since Russia invaded on Feb. 24. And Russian strikes on hospitals and other non-military targets have killed large numbers of civilians and strained Ukraine's ability to care for sick and wounded people. The Associated Press has documented three dozen Russian attacks on medical facilities, hitting medics, patients and even newborns.
More than a dozen House members wrote Friday to Secretary of State Antony Blinken and Defense Secretary Lloyd Austin asking for the U.S. to fill gaps in Ukraine's medical infrastructure. The steps recommended by the group include opening field hospitals in eastern Poland, providing Ukraine with armored ambulances and taking some of the sick and wounded to the U.S. military's Landstuhl regional hospital in western Germany.
"We're going to have to really step up in a really big way to relieve the combat wounded and civilian casualties that will be coming in the weeks and months ahead," said Rep. Jason Crow, a Colorado Democrat who recently visited Poland and other countries in the region.
— Associated Press
Vatican scraps plans for Pope Francis to meet with Russian Orthodox Patriarch
A planned meeting between Pope Francis and Russian Orthodox Patriarch Kirill in Jerusalem in June has been canceled by the Vatican. The Russian patriarch has vocally supported Russia's war in Ukraine.
Francis told local Argentinian newspaper La Nación that the meeting was "suspended" because Vatican officials said it "could lend itself to much confusion at this moment."
Pope Francis has been openly critical of the Russian invasion of Ukraine, and has urged an end to the conflict. In early April he was photographed holding a Ukrainian flag from the town of Bucha, which he said had been "martyred" after evidence emerged of Russian atrocities committed against civilians there.
— Natasha Turak
UN says international humanitarian law is being 'tossed aside' as Russian war crimes mount
UN High Commissioner for Human Rights Michelle Bachelet outlined several horrific episodes from the ongoing war in Ukraine where respect for "humanitarian law has not merely been ignored but seemingly tossed aside."
Bachelet said that the UN was gathering evidence of indiscriminate shelling and bombing in populated areas and on civilian infrastructure, unlawful killings and executions, indecent treatment of human remains, forced detentions, sexual assault and torture.
"Our work to date has detailed a horror story of violations perpetrated against civilians. First and foremost, this senseless war must stop. But as the fighting shows no sign of abating, it is vital that all parties to the conflict give clear instructions to their combatants to strictly respect international humanitarian law and international human rights law," Bachelet said.
"Those in command of armed forces must make it clear to their fighters that anyone found to have been involved in such violations will be prosecuted and held accountable," she added.
Since Russia invaded its ex-Soviet neighbor in late-February, the United Nations says it has confirmed 2,435 civilian deaths and 2,946 injuries in Ukraine.
"We know the actual numbers are going to be much higher as the horrors inflicted in areas of intense fighting, such as Mariupol, come to light," the UN Human Rights Chief said of the death toll.
— Amanda Macias
Germany's Scholz says avoiding escalation between NATO and Russia is 'top priority'
Avoiding a confrontation between Russia and the NATO alliance is the top priority for Germany's leader, he told local newspaper Der Spiegel.
When it comes to weapons transfers to Ukraine, Germany has changed its long-held policy in order to allow arms transfers into conflict zones, though has held back on delivering heavy equipment like tanks into the country for fear of potential nuclear escalation with Russia.
"That's why it is all the more important that we consider each step very carefully and coordinate closely with one another," Olaf Scholz was quoted as saying, according to a translation by Reuters. "To avoid an escalation towards NATO is a top priority for me."
"That's why I don't focus on polls or let myself be irritated by shrill calls," he added, referencing criticism that he has not done enough to support Ukraine. "The consequences of an error would be dramatic."
— Natasha Turak
UN says 2,435 killed in Ukraine since start of war, warns death toll is likely higher
The United Nations says it has confirmed 2,435 civilian deaths and 2,946 injuries in Ukraine since Russia invaded its ex-Soviet neighbor on Feb. 24.
Of those killed, the U.N. has identified at least 48 girls and 66 boys, as well as 70 children whose gender is unknown.
The Office of the UN High Commissioner for Human Rights said Monday that the death toll in Ukraine is likely higher, citing delayed reporting due to the armed conflict.
The international body said most of the civilian casualties recorded were caused by the use of explosive weapons, including shelling from heavy artillery and multiple launch rocket systems, as well as missiles and airstrikes.
— Amanda Macias
Cost of damage to Ukraine's infrastructure rises to $60 billion, World Bank says
The damage to Ukraine's infrastructure has now hit $60 billion and will continue to rise as the war goes on, World Bank President David Malpass told a conference.
That figure, which Malpass described as an early estimate of "narrow" damage costs, did not include the losses to Ukraine's economy. Analysts have estimated that the country's economy has been cut in half.
"Of course the war is still ongoing, so those costs are rising," Malpass said.
Ukrainian President Volodymyr Zelenskyy told World Bank and International Monetary Fund leaders on Thursday via video that Ukraine needs $7 billion monthly to prevent its economy from collapsing under the Russian invasion.
— Natasha Turak
British embassy in Kyiv set to open next week
The British government will re-open its embassy in Ukraine's capital city of Kyiv next week after its temporary closure amid Russia's invasion in late February.
A small number of British staff remained in western Ukraine to provide humanitarian support following the temporary closure of the compound in Kyiv.
"The extraordinary fortitude and success of President Zelenskyy and the Ukrainian people in resisting Russian forces, means we will shortly be re-opening our British Embassy in Kyiv," British Foreign Secretary Liz Truss said in a statement.
The British government added that the embassy is currently undergoing security updates before staff and U.K. Ambassador to Ukraine Melinda Simmons arrive.
Meanwhile, the U.K. continues to advise against all travel to Ukraine.
— Amanda Macias
No humanitarian corridors planned for today, Ukraine's deputy PM says
Routes for civilian evacuations out of eastern and southern Ukraine are currently too dangerous to use, meaning there will be no humanitarian corridors open today, Deputy Prime Minister Iryna Vereshchuk has announced.
A corridor had initially been agreed to evacuate 6,000 civilians on 90 buses from the heavily bombarded city of Mariupol, where an estimated 120,000 civilians are still trapped. But a much smaller number have been able to leave than hoped due to continued Russian shelling, Ukrainian officials say.
"Due to the lack of control over their own military at the place, the occupiers were unable to ensure a proper ceasefire," Vereshchuk wrote on Facebook, according to a Reuters translation.
"Also due to their own disorganisation and negligence, the occupiers could not provide the timely transport of people to the meeting point where dozens of our buses and ambulances were waiting," she added.
Moscow did not immediately respond to a CNBC request for comment, but it has previously blamed Ukraine for the failure of humanitarian corridor agreements and denies targeting civilians, despite well-documented evidence to the contrary.
— Natasha Turak
Moscow openly declares intention to control Donbas and southern Ukraine
Russia has for the first time disclosed its goal to fully control Ukraine's eastern Donbas region as well as southern Ukraine as part of the second phase of its invasion.
"Control over the south of Ukraine is another way to Transnistria, where there is also evidence that the Russian-speaking population is being oppressed," Russian military official Rustam Minnekayev said at a meeting, according to Russian media and a translation by Reuters. Russian forces have significantly ramped up their bombardment of eastern and southern Ukraine in recent days.
Russian control of southern Ukraine would give Moscow a land bridge between the Russian-backed separatist territories in the Donbas and the Crimean peninsula, which it annexed in 2014.
Transnistria is an unrecognized breakaway state that is officially part of Moldova, which borders Ukraine to the south. Russian forces have been stationed in Transnistria since the 1990s, and Kyiv has warned that Moscow could stage false flag operations there to justify an invasion.
In March 2022, the Parliamentary Assembly of the Council of Europe designated Transnistria as a Moldovan territory occupied by Russia.
— Natasha Turak
Russia says it hit 58 military targets in Ukraine overnight
Russian forces struck 58 military targets in Ukraine overnight, its Defense Ministry said. The sites hit included areas where Ukrainian military equipment, troops and fuel supplies were concentrated, Reuters reported the ministry as saying.
The ministry said it also hit three targets with high-precision missiles, including an S-300 air defense system and a large group of Ukrainian soldiers. NBC has not been able to independently verify the claims.
— Natasha Turak
EU urges citizens to work from home, drive less to reduce Russian gas reliance
The EU is calling on people to switch up their habits in order to use less energy, which it says will help to reduce reliance on Russian gas. The EU imports roughly 40% of its natural gas from Russia.
The European Commission and the International Energy Agency has compiled put together a list of energy-saving measures and say they could save households an average of up to 500 euros ($540) annually.
"People across Europe have helped Ukraine by making donations or aiding refugees directly, and many would like to do more. Most households are also experiencing higher energy bills because of the energy crisis exacerbated by the war," the Commission and IEA said in a joint report.
"Using less energy is not only an immediate way for Europeans to reduce their bills, it also supports Ukraine by reducing the need for Russian oil and gas, thereby helping to reduce the revenue streams funding the invasion," the organizations added.
"If all EU citizens were to follow the recommendations below at home and in their workplace, it would save 220 million barrels of oil a year, which is enough to fill 120 supertankers, and around 17 billion cubic metres of gas, which is enough to heat almost 20 million homes," the IAE said on its website.
The list of measures encourages people to:
Turn down heating and use less air conditioning
Adjust the boiler's settings
Work from home
Use the car more economically
Reduce speed on highways, with the car air conditioning turned down
Leave the car at home on Sundays in large cities
Walk or bike for short journeys instead of driving
Use public transport
Skip the plane, take the train
— Natasha Turak
Mariupol mayor appeals for a full evacuation of the city
The mayor of Mariupol has called for a full evacuation of the besieged southern port city, which Russia says it has captured, except for the Azovstal steel plant complex, where a few thousand Ukrainian troops and civilians are holding out. It has been the site of the heaviest shelling since Russia's invasion of Ukraine began, cut off from electricity, water and food for nearly two months.
The city has lost roughly 80% of its pre-war population of around half a million people. Ukraine's government now says that satellite imagery shows mass graves in the area.
"We need only one thing - the full evacuation of the population. About 100,000 people remain in Mariupol," Mayor Vadym Boichenko said on national television, according to Reuters.
— Natasha Turak
Putin's decision not to storm Mariupol plant may be aimed at freeing up Russian forces: UK
Intense fighting continues in Ukraine's eastern Donbas region, with Putin's decision to blockade the Azovstal steel plant in Mariupol likely aimed at freeing up his forces for fighting elsewhere, the U.K.'s Defense Ministry said in its daily intelligence update on Twitter.
A few thousand Ukrainian troops and civilians are still holed up inside the plant, and several attempts to create humanitarian evacuation corridors have failed.
"Despite Russia's renewed focus they are still suffering from losses sustained earlier in the conflict," the U.K.'s ministry wrote. "In order to try and reconstitute their depleted forces, they have resorted to transiting inoperable equipment back to Russia for repair."
— Natasha Turak
Ukrainian officials say up to 9,000 people may be buried in a mass grave near Mariupol
As many as 9,000 people may be buried in a mass grave in a village outside the city of Mariupol, Ukrainian officials said in a statement on Telegram.
Satellite images captured by the U.S. defense contractor Maxar show mass graves 20 times bigger than a cemetery discovered this month in the city of Bucha, the Mariupol City Council said, according to NBC translation. The site in the village of Mangush could hold 3,000 to 9,000 — and 70 bodies have been found so far, the city council.
Maxar said the graves appeared toward the end of March and expanded in April.
CNBC and NBC were not able to independently confirm the report.
"The biggest war crime of the 21st century was committed in Mariupol. This is the new Babyn Yar," said Mariupol's Mayor Vadym Boychenko, referring to the Kyiv ravine where Nazi forces killed an estimated 33,000 Jews in 1941.
"And now Putin is destroying Ukrainians. He has already killed tens of thousands of civilians in Mariupol. And this requires a strong reaction from the entire civilized world. Anything needs to stop the genocide," said the mayor.
The embattled city of Mariupol has been hit especially hard as victory there will be a prized target for Russia. The capture of the southern port city will give Moscow control over much of Ukraine's southern coast and provide a land corridor to Crimea, which the Kremlin annexed from Ukraine in 2014.
— Chelsea Ong
Zelenskyy says Russia rejected Easter truce proposal
Russia rejected an Easter truce proposal, Ukrainian President Volodymyr Zelenskyy said in his nightly video address.
"This shows very well how the leaders of this state actually treat the Christian faith, one of the most joyful and important holidays," he added, though he said he still hopes for peace.
Earlier, U.N. Secretary-General Antonio Guterres called for a four-day pause to the fighting in Ukraine during the Orthodox Christian Easter to evacuate civilians and allow humanitarian aid to be sent into needy areas.
Zelenskyy also said Mariupol continues to resist Russia, despite Russian President Vladimir Putin's claim of victory in the city.
— Chelsea Ong
Read CNBC's previous live coverage here:
Ukraine says mass graves in Mariupol were 20 times bigger than Bucha burial site; Biden to send more weapons and aid to Ukraine
Copyright CNBCs - CNBC