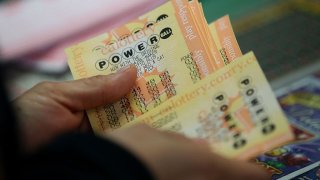 The Mega Millions and Powerball lottery jackpots have been climbing for months, building anticipation for a pair of drawings with grand prizes worth roughly half a billion dollars apiece.
The Powerball jackpot is up to $470 million, with the next drawing set for Saturday. Meanwhile, Mega Millions' grand prize will be $600 million if someone selects the winning numbers for Tuesday night's drawing.
The prizes would be the largest lottery jackpot since 2019. In June 2019, a woman named Laarni Bibal bought a winning Mega Millions ticket worth $522 million (with a cash option worth $340 million) in San Diego. That win came just three months after then 24-year-old Manuel Franco of Wisconsin bought a Powerball ticket that won him a $768 million jackpot.
Still, if the current Mega Millions and Powerball jackpots find winners this weekend, neither one would even rank among the five largest U.S. lottery jackpots in history.
The all-time record for a U.S. lottery drawing came in January 2016, when three winners split a prize of nearly $1.59 billion.
The odds of winning the top Powerball prize this week were roughly one in 292.2 million, according to Powerball.
Lottery winners choose between receiving their winnings in an annuity — with payments over 30 years — or the more popular option, a single lump sum payment in a smaller amount (that's the option Kevin O'Leary says you should choose). The lump sum on Friday's Mega Millions drawing is $377.4 million, while Saturday's Powerball drawing has a lump sum of $362.7 million.
Here is a look at the top lottery prizes ever won (so far).
1. $1.586 billion (Powerball)
This Powerball drawing from Jan. 13, 2016, for which three winning tickets were sold, remains history's biggest lottery prize.
The winners — John and Lisa Robinson in Tennessee, Maureen Smith and David Kaltschmidt in Florida and Marvin and Mae Acosta in California — split the full prize, giving them the option of roughly $533 million before taxes as an annuity or $327.8 million as the lump-sum payment.
The Robinsons' winning ticket was one of four they bought at a grocery store, they told NBC's TODAY show. They opted to take the lump sum. "We're not guaranteed tomorrow," says John.
Florida-based Smith and Kaltschmidt also picked the lump sum. At the time they planned to get massages, upgrade their truck and retire with the newfound wealth, according to NBC.
The Acostas remained anonymous for months after winning, but released a statement saying they were thankful for the "rare gift that has been placed in our care."
2. $1.537 billion (Mega Millions)
The winner of last year's huge drawing took their time to come forward. The anonymous winner (South Carolina is one of a handful of states that allows lottery winners to claim their prize anonymously) finally claimed their winnings earlier this month, a little more than a month ahead of the April 19 deadline to come forward.
What we do know is that the winner chose the cash option for their prize, which resulted in a one-time payment of almost $878 million. While it's not the largest-ever jackpot, that number does represent the biggest payout to a single lottery winner in US history.
Based on the expected tax bill, the total haul from that jackpot will be about $491.7 million, after both federal and state taxes (a 7 percent income tax in South Carolina, plus the 37 percent federal rate), while other taxes may also apply.
3. $768.4 million (Powerball)
Manuel Franco bought his winning ticket in New Berlin, Wisconsin, a small city located in the suburbs of Milwaukee. When he came forward to claim his prize in April 2019, Franco told reporters that he bought the winning ticket at a time when he had less than $1,000 in his bank account.
Franco chose the lump sum payment option for his jackpot prize, which equaled $477 million. Wisconsin lottery officials said at the time that he would likely take home about $326 million after paying state and federal taxes.
4. $758.7 million (Powerball)
Mavis L. Wanczyk of Chicopee, Massachusetts, claimed the winning ticket for the $758.7 million Powerball jackpot in August of 2017, taking $480.5 million before taxes as the lump sum payment. One of the first things Wanczyk did after winning was to tell her employer, Mercy Medical Center, that she was quitting after working there for 32 years.
"I've called them and told them I will not be coming back," she told NBC.
5. $687.8 million (Powerball)
Another big winner in 2018 came less than a week after the $1.54 billion Mega Millions jackpot. This one was less than half the size of its predecessor, but it still represented a major windfall for a pair of winners in Iowa and New York in October 2018.
In Iowa, the winner was a 51-year-old grandmother named Lerynne West who chose a lump-sum payment of roughly $198 million. West, who nearly lost her winning ticket, later appeared on TV with Ellen DeGeneres and announced that she would donate $500,000 to the veterans non-profit The Travis Mills Foundation.
The winner from New York was Robert Bailey, a 67-year-old retired postal worker who bought his winning ticket in Harlem using the same combination of lottery numbers he said he'd played every week for roughly 25 years. He also took the lump-sum payment.
This is an updated version of a previously published article.
Don't miss: Winning the $1 billion Mega Millions jackpot won't make you happier, but it will make you more satisfied
Like this story? Subscribe to CNBC Make It on YouTube!
Copyright CNBCs - CNBC