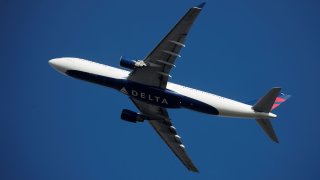 The airline forecast a $200 million profit for the fourth quarter.
In October, Delta said higher fuel costs would weigh on its bottom line in the quarter.
Delta forecast 2022 profits and said it could surpass its pre-pandemic bottom line by 2024.
Delta Air Lines on Thursday said travel demand — and fares — in the fourth quarter are rising, despite the omicron variant of Covid and that it expects to post a pretax profit of about $200 million for the last three months of the year.
The Atlanta-based airline's fourth-quarter revenue will likely come in 26% below 2019 levels when it brought it $11.44 billion, it said in a securities filing ahead of its first in-person investor day since before the pandemic.
Unit revenues for the next two weeks of December will be up "not an insignificant amount above where we were in 2019," CEO Ed Bastian told CNBC's "Squawk on the Street."
Delta executives will outline the company's plan to boost profits next year and surpass pre-pandemic levels by 2024, according to the filing.
Other airlines have also noted strong holiday travel demand, despite omicron.
United Airlines on Monday said it expects to carry more travelers around Christmas and New Year's on average than Thanksgiving.
Bastian told CNBC that business travel volume is about 60% of 2019 levels and will likely stay in that range "in the next couple of months" since the new variant is likely to delay large companies' return-to-office plans. Small business travel demand is about 75% of pre-pandemic levels, outpacing large corporate travel demand.
Bastian also said that 97% of Delta's roughly 80,000 employees are vaccinated. The airline, like other large carriers, is a federal contractor and is required to have staff fully vaccinated if they haven't received a medical or religious exemption by Jan. 4.
In November, Delta began charging unvaccinated employees $200 more a month for company health insurance.
Delta's shares ended Thursday down 2.2% at $35.80.
Copyright CNBC