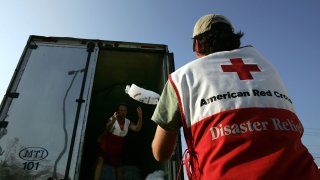 The coverage on this live blog has ended — for up-to-the-minute coverage on the coronavirus, visit CNBC's latest live blog.
After warning that the U.K. had "tough, tough weeks to come," British Prime Minister Boris Johnson on Monday announced a national lockdown for England to help contain a new, highly contagious variant of Covid-19. Scotland's leader, Nicola Sturgeon, also announced a new stay-at-home order for the country's citizens starting at midnight. The U.K. began its rollout of the Oxford-AstraZeneca vaccine on Monday, after starting to deploy the Pfizer-BioNTech shot in December. To protect as much of its population as possible, the U.K. government has decided to implement a 12-week delay between the first and second doses of both the Pfizer-BioNTech and Oxford-AstraZeneca vaccines. The delay was criticized by the British Medical Association.
Here are some of the biggest developments Tuesday:
The U.S. is recording at least 215,408 new Covid-19 cases and at least 2,664 virus-related deaths each day, based on a seven-day average calculated by CNBC using Johns Hopkins University data.
The following data was compiled by Johns Hopkins University:
Global cases: More than 86.16 million 
Global deaths: At least 1.86 million
U.S. cases: More than 20.94 million
U.S. deaths: At least 355,650
'It's a logistics Rubik's Cube,' distributing Covid vaccines, says Gov. Lamont
Democratic Connecticut Gov. Ned Lamont joined "Closing Bell" to discuss what's being done to successfully distribute the coronavirus vaccine to residents and health-care workers in his state.
Some governors have criticized the slow rollout of vaccinations across the U.S. Lamont agreed that there were challenges involved and called the distribution process a "logistics Rubik's Cube." Lamont said that the private sector, including Walgreens and CVS would play a role in vaccine distribution in Connecticut.
—Riya Bhattacharjee
2021 Grammy Awards postponed as coronavirus cases surge in California
The 2021 Grammy Awards have been postponed, according to multiple media reports Tuesday.
The annual event was scheduled to take place on Jan. 31, but concerns over the ongoing spread of the coronavirus have led the Recording Academy to look for a new date for the ceremony. Organizers are reportedly eyeing March for the rescheduled event.
The ceremony typically takes place in Los Angeles, but the city and its surrounding county are experiencing higher-than-average Covid-19 cases that have led to record hospitalizations.
Plans for this year's Grammys were already quite different than previous telecasts. The show was not going to have an audience and only presenters and performers were going to be on-site for the event. Additionally, nominated artists would not have been permitted and would have accepted awards remotely
—Sarah Whitten
Israel prepares for third national lockdown despite successful vaccination campaign
Israel is heading for a third national lockdown set to begin Friday despite its early success with the rollout of the Covid-19 vaccine, reports CNBC's Jason Gewirtz.
Prime Minister Benjamin Netanyahu blamed a faster spreading strain first detected in the U.K. last month for the planned lockdown that shutters schools, non-essential businesses and forces residents to stay within a one-kilometer radius of their homes.
The country had already vaccinated roughly 7% of its population of more than 9.2 million as of last week. The Israeli Ministry of Health projects up to 90% of the "at-risk" population will receive their second of two shots from the Pfizer BioNTech vaccine within the next 25 days.
—Melodie Warner 
Georgia announces state's first case of new Covid variant first found in the UK
Georgia health officials have identified the state's first case with the new, more contagious variant of Covid first identified in the United Kingdom, known as B.1.1.7.
The variant was found in an 18-year-old man who had no prior travel history and is isolating at home, the Georgia Department of Public Health said in a statement. The new strain does not appear to cause more severe illness or increased risk of death, but it's significantly more contagious, the department said.
"The emergence of this variant in our state should be a wake-up call for all Georgians," the department's Commissioner Dr. Kathleen Toomey said in a statement.
— Noah Higgins-Dunn
Providence Hospital System defies America's slow vaccine rollout trend
More than 15.4 million doses have been delivered to states, but only 4.5 million Americans have received their first shot, according to the Centers for Disease Control and Prevention.
Providence Hospital System defied the country's slow rollout trend and gave the first dose of the Covid vaccine to more than half of its 120,000 employees across seven states.
Dr. Amy Compton-Phillips, chief clinical officer for Providence, told "The News with Shepard Smith" that "planning is the antidote to panic." She said that Providence began strategizing in September to identify caregivers with the highest risk and how to integrate technology like emails and texts to streamline the rollout process.  
—Emily Deciccio
Red Cross urges plasma donation, especially from recovered Covid patients
The Red Cross is teaming up with the NFL to urge people to donate blood and plasma, especially from those who have recovered from Covid-19 to combat a convalescent plasma shortage.
In return, donors will be entered to win two tickets to next year's Super Bowl LVI in Los Angeles.
As coronavirus cases surge across the country, there is more need for convalescent plasma, which has led to a shortage. "While winter is historically a challenging time to collect blood due to the holidays and inclement weather, this year, COVID-19 has added a new challenge," said Dr. Pampee Young, Chief Medical Officer, Red Cross. "Last month, the Red Cross distributed the greatest number of convalescent plasma products than any other month during the pandemic. With hospital distributions for this product increasing about 250% since October, it is vital that those who have recovered from COVID-19 donate blood or plasma so that we can continue to treat those critically ill with the virus."
—Riya Bhattacharjee
Economic rebound coming in second half of 2020, IMF economist says
The global economy will begin to return to normal growth in the second half of the year, but the recovery could be uneven, the International Monetary Fund's top forecaster told CNBC in an interview Tuesday. Gita Gopinath, the agency's chief economist, said the world faces "a very dark and difficult winter, but there is light at the end of the tunnel." The IMF is due soon to update its growth forecast, which in October estimated a global gain of 5.2% and an increase of 3.1% for the U.S.
–Jeff Cox
Executive director of UNICEF says pandemic has created a global education emergency
Henrietta Fore, executive director of UNICEF tells CNBC Make It that the coronavirus pandemic has created a "global education emergency."
At the peak of the pandemic "we had 1.6 billion children out of school," she says. "Now, that number has fallen to maybe a quarter of a billion but we have a great number of children who do not have access to remote or distance learning."
Fore says she fears that "many girls will never return to school" and estimates that one out of every three children worldwide currently does not have access to in-person or remote learning.
—Abigail Hess
Northwell Health CEO on growing up in poverty and battling Covid-19
In an in-depth profile for CNBC's Make It Behind the Desk series, Northwell Health CEO Michael Dowling talks about a broad range of topics, including how he went from extreme poverty to the C-suite, what the coronavirus pandemic taught him, and what was one of his biggest regrets.
"What motivates me? Poverty," Dowling tells CNBC Make It. "I grew up in serious poverty."
At one point in April, when New York City was considered the epicenter of the pandemic, Northwell hospitals had more than 3,400 hospitalized Covid patients at one time. (Now, Northwell has less than half that many hospitalized.)
—Jade Scipioni
Los Angeles-area hospitals are taking drastic measures to handle surge in Covid hospitalizations, report says
The number of hospitalized Covid-19 patients in Los Angeles is at new highs, the Los Angeles Times reports, citing recent data, and hospitals are having to make hard decisions with supplies and beds at a premium.
Hospitals in Los Angeles County are discharging patients as fast as possible to free up space for more critical patients and ambulance operators were told to not transport people to hospitals who have little chance of survival, the paper reported.
"We are basically overrun with critically ill patients.... It's extraordinarily difficult. People are exhausted," Dr. Anish Mahajan, chief medical officer at Harbor-UCLA Medical Center near Torrance, told the paper.
The Los Angeles County Emergency Medical Services Agency told EMS services Monday that they need to conserve oxygen and to only give oxygen to patients with oxygen saturation below 90%, though there are some exceptions.
—Chris Eudaily
Amazon's bolsters Air fleet with purchase of used planes
Amazon says it's buying 11 used Boeing 767-300 jetliners from Delta and Canadian airline WestJet and the numbers show the retail giant is getting a deal.
Airlines like Delta are speeding up the retirement of their older aircraft, like its 767-300ER fleet, the result of a plunge in air travel demand because of the pandemic. Aircraft values have taken a hit this year with so few customers taking to the skies and this model in December was 15% cheaper than at the start of 2020, according to Ascend by Cirium, an aviation consulting firm.
Amazon says the fleet dedicated to its Amazon Air arm will total about 85 planes by the end of 2022, a mix of leased and owned aircraft.
—Leslie Josephs
Large study on 'long Covid' patients found people most commonly experienced fatigue, tiredness after exercise and cognitive dysfunction
A large study of 3,762 Covid patients in 56 countries who experienced persistent health issues found that the most common symptoms six months after infection were fatigue, tiredness after exercise and cognitive dysfunction, CNBC's Sam Meredith reports
For many "long Covid" patients — patients who have continued symptoms after first contracting the virus — the health issues have affected their work lives.
Over 45% of the people surveyed said they had to have a reduced work schedule compared with pre-illness and 22.3% were not working at the time they were surveyed due to health.
—Chris Eudaily
More new strains likely to arrive in U.S., epidemiologist says
More new strains of the coronavirus are likely to make their way to the U.S., Michael Osterholm, a member of President-elect Joe Biden's Covid-19 advisory board, said.
On Monday, Gov. Andrew Cuomo announced that the first case of the new variant that was discovered in the U.K. was found in upstate New York.
"It's a very big concern, and it's a strain that is obviously around the world and, you're going to find over the days ahead, it's in many locations in the United States," Osterholm, an epidemiologist and director of the Center for Infectious Disease Research and Policy at the University of Minnesota, said on "Squawk Box."
"And it's the first of what will likely be a number of these strains that are emerging as we're at this point in the pandemic," he added.
—Will Feuer
U.S. gas prices expected to increase following Covid-related decline in 2020
U.S. gas prices are expected to increase 27 cents per gallon on average this year following a steep decline in 2020 due to the coronavirus pandemic, according to fuel data company GasBuddy.
The price increase is expected to be driven by higher demand for gasoline as more Americans return to daily commuting but continue to drive instead of fly when traveling longer distances, Patrick De Haan, head of petroleum analysis at GasBuddy, told CNBC.
GasBuddy is forecasting U.S. gasoline spending this year to rise to $325.6 billion, up 16.3% from $280 billion in 2020 – the lowest spending since at least 2004. That includes all gasoline supplied to the U.S. market for consumers and commercial customers.
—Michael Wayland
Primary physician discusses how the new Covid strain affects vaccine rollout
Dr. Kavita Patel, a primary care physician and Brookings Institution Fellow, joined "Squawk Box" to discuss how the new Covid strain may affect the vaccine rollout.
—Melodie Warner 
It's 'premature' to change authorized vaccines dosing and schedules, FDA says
U.S. regulators said changing the authorized dosing or schedules of Covid-19 vaccines is premature and not supported by the data available, Reuters reports.
The U.S. Food and Drug Administration said, "At this time suggesting changes to the FDA-authorized dosing or schedules of these vaccines is premature and not rooted solidly in the available evidence."
The FDA said it had been watching reports about lowering the number of doses, extending the length of time between doses, cutting doses in half, or mixing and matching vaccines in order to immunize more people, Reuters said.
"Without appropriate data supporting such changes in vaccine administration, we run a significant risk of placing public health at risk," the FDA said in a statement.
—Terri Cullen
Manager of care home that vaccinated all residents discusses rollout process
Paul Johnston, Manager of the Palmerston Residential Care Home in Belfast, Northern Ireland, joined Worldwide Exchange to discuss his experience after getting the second dose of the vaccine. Johnston manages the first care home in the Western world to vaccinate all its residents.
—Melodie Warner 
UK's decision to delay second vaccine proves controversial
The U.K.'s decision to delay administration of the second coronavirus vaccine dose is proving controversial with experts, advisors and the vaccine producers all weighing in on the plan.
Britain was among the first countries to kick off a mass vaccination campaign after approving the Covid-19 vaccine developed by Pfizer and BioNTech at the start of December. On Monday, it started rolling out the University of Oxford and AstraZeneca vaccine. Both vaccines require two doses per person.
While the U.K. government initially said that the second dose would be given to people either three or four weeks after the first dose, in line with the dosing regimens tested in clinical trials, it is now recommending a gap of up to 12 weeks.
The move is an effort to give more people a first dose – and some initial protection against Covid-19 – amid a surge in infections, largely attributed to a new strain of the virus that has become prevalent in parts of England.
—Holly Ellyatt
Read CNBC's previous live coverage here:
Covid updates: Cuomo to make skipping the vaccine line a crime; Moderna increasing vaccine production
Copyright CNBCs - CNBC