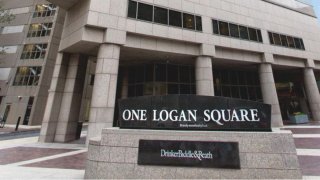 Drinker Biddle & Reath has agreed to a merger of relative equals with Indianapolis-based Faegre Baker Daniels, a move that will create one of the 40 highest grossing U.S. law firms with almost $1 billion in revenue and 1,300 lawyers.
Partners from both firms have ratified the deal, a month after word of the merger talks became public. When the merger closes on Feb. 1, the combined firm will be known as Faegre Drinker Biddle & Reath. And after 170 years as one of the city's largest and most prominent law firms, Philadelphia will not be one of the combined firm's three biggest offices. The firm will be spread across 22 offices in the U.S., U.K. and China.
Here are some other key factoids on the soon-to-be combined firm:
Drinker Biddle Chairman and CEO Andrew Kassner will be co-chairman of the combined firm along with Faegre Baker Chairman and Managing Partner Tom Froehle, who is based in Indianapolis. The rest of the executive team will include three people from each firm. Drinker Biddle Chief Operating Officer Jane Koehl will serve in the same role at Faegre Drinker, while Drinker Biddle partners Bill Connolly and Judy Reich will join Faegre Baker partners David Barnett, Gina Kastel and Jack Sperber as executive partners.
The firm will not have a headquarters location, though its largest office will be Minneapolis (336 lawyers), followed by Indianapolis (236), Chicago (175), Philadelphia (164) and Washington (153).
The two firms have overlapping offices in just three cities: Chicago, Los Angeles and Washington, D.C. Drinker has its strength on the East Coast and Faegre Baker in the Midwest. Drinker Biddle will gain offices in Minneapolis, Denver and Boulder, Colorado; Indianapolis and Fort Wayne, Indiana; Des Moines, Iowa; and Silicon Valley, as well as three international offices in London, Beijing and Shanghai. Faegre Baker Daniels will gain new offices in Philadelphia; New York City and Albany, New York; San Francisco; Dallas; Wilmington, Delaware; Florham Park and Princeton, New Jersey; and Hartford, Connecticut.
The two firms are bunched together in the AmLaw 100 annual list of the nation's highest grossing law firms. Based on fiscal year 2018 data, Faegre Baker was ranked No. 71 with $513 million in revenue and Drinker Biddle No. 79 with $450 million in revenue. Faegre Baker has 669 lawyers, compared to Drinker Biddle's 530.
The largest practice areas will be business litigation (250 lawyers), corporate (225), product liability litigation (160) and intellectual property (130). Industry sector focuses will include financial services, health and life sciences, insurance, retail and food and agribusiness. Kassner saiad Drinker Biddle already has strength in the first four of those but agribusiness is a unique strength of Faegre Baker's. Indiana is also home to a thriving medical device business sector and Minneapolis offers strength with financial services, health care and retail.
Read more about the merger at PBJ.com.
Get all your business news with the Philadelphia Business Journal.