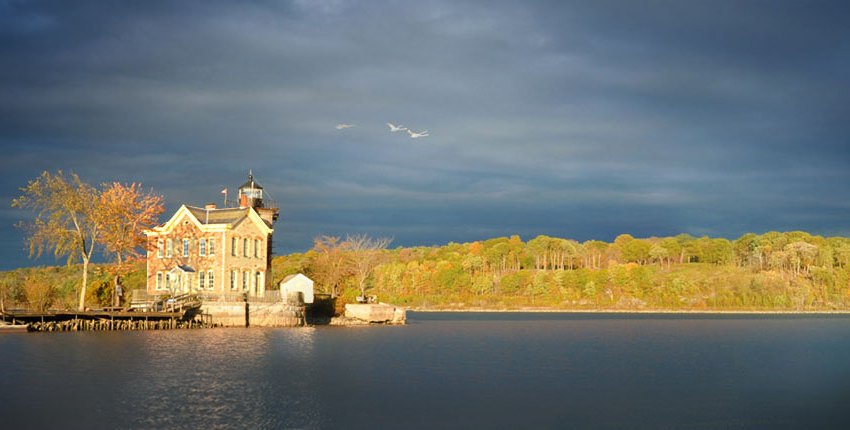 An overnight or weekend stay in a lighthouse might possibly be the ultimate romantic getaway, and some are even large enough to accommodate the whole family! Here are a few of our northeast picks:
The Keeper's House, Isle au Haut, Maine
Located on an island in magnificent Arcadia National Park, the lighthouse is reachable only by mail boat (about a 40-minute ride from Stonington), so isolation is the key feature here. The primitive lighthouse compound is ideal for those seeing a quiet place to seriously get away from it all. Gaslight and kerosene lanterns provide illumination, while woodstoves ward off the chill. Open May 20 through October 23. Rates include meals, beverages and bicycle use. For more information, visit keepershouse.com or call 207.469.1174.
Race Point Lighthouse, Race Point, Massachusetts
Built in 1876, this cozy lighthouse is located at the very tip of Cape Cod, just west of Provincetown. Brace yourself... It's so remote, you'll have to be driven there the last few miles, which is why you should want to go! The quiet solitude and amazing bird-and-whale-watching will make it worth the trip. You'll need to provide your own food, water and linens. Open May through September. For more information, visit racepointlighthouse.net or call 508.487.9930.
The Lighthouse Inn, West Dennis, Massachusetts
Located along the shore of Nantucket Sound, this posh, seven-acre Cape Cod compound features charming cottages with fireplaces and high-end amenities like a private beach, golf, tennis, fishing, summer theatre and even a heated pool. The original keeper's house and still-functioning light tower (built in 1855) are located at the heart of the 68-room complex. Family operated as an inn since 1938, the light continues as a private aid to navigation. Open May through October. For more information, visit lighthouseinn.com or all 508.398.2244.
Selkirk Lighthouse, Pulaski, New York
Located at the mouth of the Salmon River with spectacular views of Lake Ontario, this rustic lighthouse has the lovely feel of an old, stone farmhouse. Guest cabins, a tackle shop, boat rentals, marine repairs, marine gas and diesel fuels and transient slips for your own boat are all available on-site. Lighthouse accommodations include four bedrooms, cable TV and a full kitchen. Two seasonal guest cabins with three bedrooms (handicapped-accessible) are also available. They provide the linens, pots and pans, while you bring your own food, friends and/or family (limited to 10 people). You'll want to make your reservations early... Reasonable rates keep the lighthouse booked through their April through early December season. Visit keepershouse.com for more information, or call 315.298. 6688.
Saugerties Lighthouse, Saugerties, New York
Just a 10-minute walk from the charming village of Saugerties and 192 miles from Philadelphia, this restored,1869 lighthouse welcomes guests year-round. The inn offers two vintage-decorated guest rooms, a small kitchen, one common bathroom and a landline phone. Simplicity is key, so you won't find air conditioning or a television. Also, since electricity is in short supply (your on an island, folks), some electric devices (like hair dryers) are prohibited. Breakfast is included, and one or two pets are permitted if you rent both rooms. Although frequently sold out in advance, register for their mailing list to be notified of last-minute cancellations. Arrival and departure times have to take place around the tides, so you'll need to plan accordingly Visit saugertieslighthouse.com for more information, or call 845.247.0656.
Rose Island Lighthouse, Newport, Rhode Island
Listed on the National Register of Historic Places, this 133-year-old lighthouse clings to an island in Narragansett Bay. The 18-acre lighthouse property serves primarily as a wildlife refuge (photo opp alert) with two bedrooms and a second-floor apartment available for overnight guests in the keeper's quarters. You'll need to bring your own food, clean your room(s) and be prepared to do some lighthouse keeper's duties during you stay. Rent one or both two first-floor bedrooms and/or the second-floor apartment. The lighthouse is open year-round. For more information, visit roseislandlighthouse.orgor call 401.847.4242.