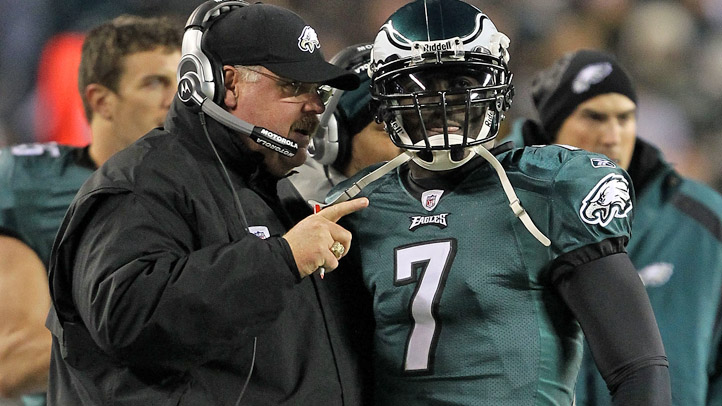 Game time: Sunday, Dec. 30, 1:00 p.m. ET, MetLife Stadium
TV:NBC
Weather: low 30s, snow possible
Records: Eagles (4-11) at Giants (8-7)

1. Is the Michael Vick's swan song?
It sure seems that way. Of course, the real answer is slightly more nuanced than "yep, he's gone." First, would Vick be willing to restructure the $100 million contract he signed before the 2011 season? Second, would the new coach have a use for Vick's talent?
Put another way: say Oregon's Chip Kelly is hired, wouldn't he want a player like Vick? Sure. For just about everybody else, however, Vick's not the long-term (or short-term) answer. Either way, he's handled his demotion about as well as can be expected and he deserves one last start before he and Andy Reid sail off into the proverbial sunset.

2. Did we overhype Bryce Brown?
Yeah, probably. After weeks of touting him as a nice complement to LeSean McCoy -- a bigger, faster, cheaper version of Shady but with an acute fumbling problem -- Brown barely saw the field against the Redskins last week. It's no coincidence that McCoy also returned to the starting lineup after missing nearly a month with a concussion. So while Brown may not be quite ready for primetime, we still think he has a place in the Eagles' offense (and whatever shape it takes in 2013). And his chances of sticking around would improve immensely if he took it easy on the turnovers.

3. Can the Eagles protect Vick from the Giants' pass rush?
This will be an interesting subplot to the game. Nick Foles had his share of growing pains but he's also a rookie. Vick, meanwhile, was drafted in 2000 and as recently as a few months ago there were still questions about whether he could properly read defenses -- both before the snap and just after it. New York's front four creates problems for the league's most astute quarterbacks, and those problems will only be exacerbated if Vick struggles to decipher what he's seeing.
4. Can Philly get after a struggling Eli Manning?
Absolutely. The defense has been a huge disappointment but it's shown glimpses of promise. It's not much but, well, when you're a four-win outfit with one game to go, glimpses are all you have. The Giants' offensive line is beat up and Eli Manning is playing like he's stuck in 2004. He's made more mistakes in the last two months than he made all of last season. If the Eagles can generate a pass rush with four or five players (and it's reasonable to think that they can), the defense could have a big day.

5. Is there any way Andy Reid doesn't get fired?
Only if Reid gets his hands on a time machine and figures out how to win the division and make a deep run through the playoffs. Otherwise, nope, not a chance.