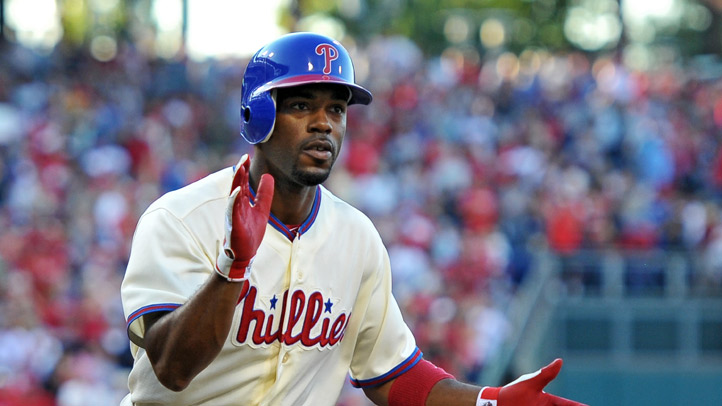 Here at Philthy Stuff we'll be taking a look at the 2013 Phillies and what we can expect from each and every player in the upcoming season as we head towards Spring Training. Next up, Jimmy Rollins.

A little over a year ago, Phillies fans were faced with the very real possibility of one of the most notable faces in franchise history wearing another team's uniform, when Jimmy Rollins filed for free agency after 12 seasons with the team. Fortunately, Rollins re-signed with the team, ensuring another three years in red pinstripes.

The Phillies were rewarded with Jimmy's best offensive season since 2008, when he had 23 homers, 30 stolen bases, 68 RBIs and an OPS of .743, along with stellar defense that the switch-hitting shortstop has become known for.

He was one of the few Phillies who not only managed to stay on the field last season, but also offered a fair bit of production. While most of the infield was battered and bruised and busted, Rollins was the one constant. He was on the field nearly every night, and he performed better than most on the team. While he didn't match his production from his MVP season (nor is he ever likely too, again), Rollins was worth every penny in 156 games in 2012.

The question, then, is whether or not Jimmy can keep up that level of production at 34 years of age in 2013. Age tends to be the great equalizer for baseball players in their mid-30s, so it could quite literally go one way or another for the veteran.

But if he's healthy, there is no reason to think that he won't still provide a decent amount of production. His at-bats will be frustrating at times, he'll swing at the first pitch way too many times, but he'll provide stellar defense, solid offense, and plenty of excitement for a team that will need it.

Stat guru Bill James agrees, and he projects Rollins to have a .258/.317/.411 line, with 18 homers and 25 stolen bases. He's far from a perfect hitter, but he still figures to be among the best shortstops in the game in 2013.