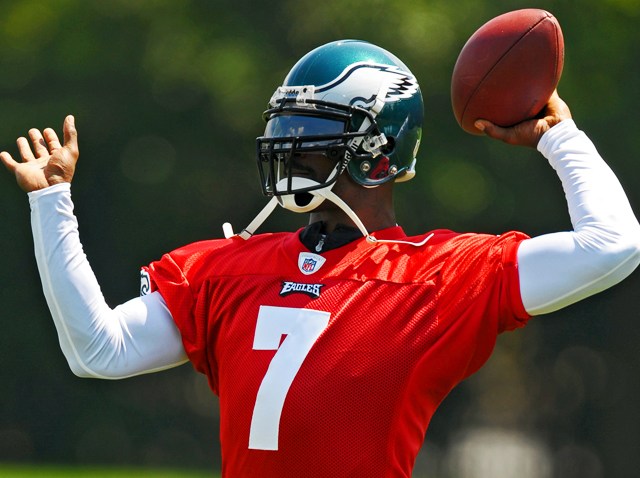 Not every Eagles fan is upset that the Birds signed Michael Vick.
His jersey is actually selling well at some Web sites despite protests and outcries from animal rights organizations and pet owners.
The jerseys were for sale on store shelves and on the Internet (of course) this weekend. Some fans quickly put down some hard-earned cash to be able to wear Vick's name on their back.
Critics were upset that the Birds signed Vick in the first place considering that he served time for animal cruelty stemming from a dogfighting ring.
But Vick's criminal past doesn't matter to every football fan.
Vick's green No. 7 Eagles jersey was listed as one of the "top sellers" at the NFL Shop at NFL.com. Just $79.99 will land fans a replica Vick Eagles jersey and fans seemed to be gobbling up the new Bird's threads.
What's amazing is the product description on NFL.com.
"Walking around wearing this Philadelphia Eagles Michael Vick replica jersey by Reebok® lets everyone know you're a hardcore fan," said NFL.com.
"Hardcore" for sure -- Vick jerseys could be polarizing even among fellow Eagles fans torn by the QB's signing with Philly.
Maybe they use that "hardcore" description for all the jerseys but it sure didn't look that way considering the descriptions were different for teammates Brian Westbrook and Donovan McNabb.
And the jerseys were also selling at some sporting good Web sites.
Three different Vick jerseys were listed among the "top sellers" at Modell's Web site but no Vick jersey made the top-selling list at the Sports Authority Web site.
And if fans really want a Vick jersey but can't afford the $80 price tag (or just want to be old school) they can always take an old Ron Jaworski or Roger Ruzek jersey and just cover over the name.
But there is one jersey fans can't get on any of these sites. The NFL still won't allow you to buy buy a jersey with Vick's alias, Ron Mexico, scrawled across the back.