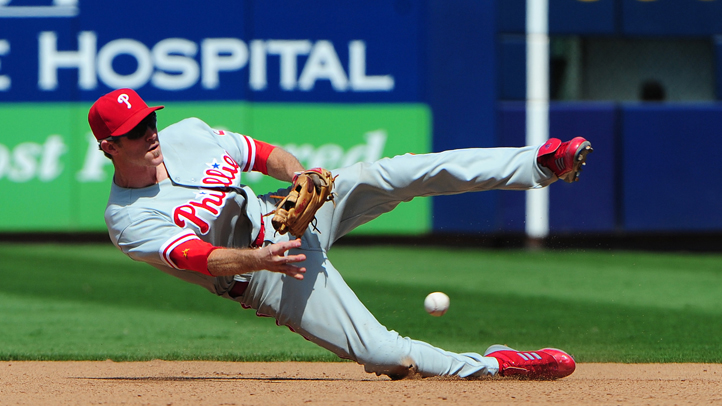 There must be something about third base at Citizens Bank Park, because it seems like everyone wants to play there. Earlier this year, we wrote about Carlos Ruiz potentially spending some time over there, and on Wednesday, there came the report that Chase Utley might be looking to play some third base.

The second baseman was fielding grounders at third before Wednesday's game against the New York Mets, and according to David Murphy of The Daily News, it was Chase's idea:
A few days ago, Chase Utley approached Ruben Amaro Jr. and asked the Phillies general manager whether he thought playing some third base in the future was realistic.
...
"I thought it could be an option in the future," Utley said. "It's way too early to have an opinion either way on how it's going to go. But I'm going to take some more groundballs there in the future. But who knows what the future has in store."


It's an interesting thought, but here's the problem as I see it: In his 10 year big league career, Chase Utley has played exactly zero games at third base. Which is two fewer than Carlos Ruiz, for those keeping score. And the last time he did play third base was in in 2002, when the then 23-year-old Utley played 123 games at the hot corner and accumulated 28 errors.

Now, that doesn't tell us a whole lot, because Utley's defense was a concern – even at second base – during the early part of his career, so one season when he was relatively green doesn't tell us a whole lot about his ability to handle the position on a full time basis.

Ten years later, I would be skeptical on him moving across the diamond for a couple reasons, one: third base is different than second base (that's obvious): the ball is on you a lot faster and the throws are longer and different, and who knows if Chase has the arm to play on the left side. Also...he's ten years older, and it's probably not easy to learn a brand new position at that point. And on top of that, he's one of the best defenders at second base, so a position change could sap a great deal of his value.

But, a move to third base could conceivably be one designed to keep him on the field longer, given the rigors and the wear and tear that come along with playing second. He wouldn't have to range as far in either direction, which would be less harmful to his knees. And as the man himself pointed out, it could offer the Phillies some additional flexibility for the Phillies to go out and get a second baseman – as opposed to a third baseman, or it could just allow them to plug Freddy Galvis right back into second base instead of having him move across the diamond.

Whatever happens – and I would bet against Chase changing positions at this point – it is interesting that the Phillies and Utley are taking a different approach to building out their 2013 team.