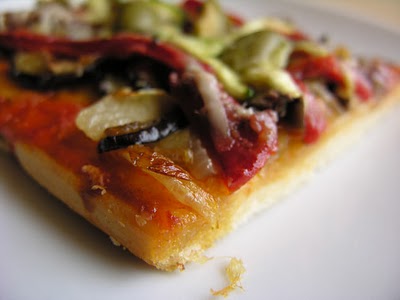 Recipe Courtesy of Chef Macgregor Mann, Amada
Ingredients:
5 Plum Tomatoes, Peeled, Diced 1/4 inch
1 Onion Small Dice
2 Garlic Minced
Pinch of Sugar
1 Cup Extra Virgin Olive Oil
1 Cup Water
1 Box Pomi Tomatoes
1 Green Pepper, Roasted, Peeled
Salt and Pepper to Taste
Pinch Chili Flakes
1/4 BU Thyme, Basil, Bay Leaf

Directions:

***Season ingredients as you go, every time you add unseasoned product to the cooking pot add the appropriate amount of salt and pepper to taste***
In mixing bowl toss diced onions with sugar and a pinch of salt, add extra virgin olive oil to a rondo pot over medium heat and slowly cook onions until golden brown (be sure to have enough oil to cover onions all the way)

while onions are cooking.



Blanch tomatoes in fryer, peel and dice.

Reserve cut tomatoes and 1 box of Pomi Tomatoes in a mixing bowl for later use.

When onions are golden brown add chopped garlic, smoked paprika, and cinnamon.

Cook on low heat for 2-3 minutes, this will help to prevent a "chalky" texture from the paprika.

Add reserved tomato product, herbs, and chilies to the pot along with water and allow to cook over medium heat for 1 1/2 hours until tomatoes are fully cooked.



Blend sauce with hand blender, creating a pureed yet slightly chunky texture bound with extra virgin olive oil.


To finished fold in diced roasted green peppers.