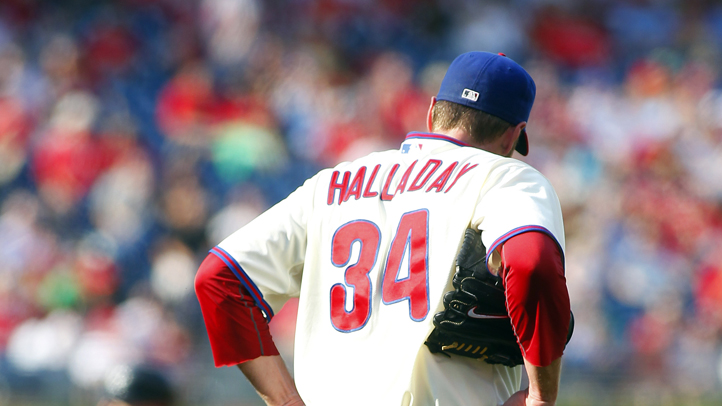 This month at Philthy Stuff, it has been our duty to keep you up to date on all things Roy Halladay, specifically pertaining to his velocity throughout his spring training starts. The last time we met up with our hero, he was getting shellacked by the Detroit Tigers, in what was an unforgettable outing that saw him give up seven runs over two and two-thirds innings, while his fastball topped out in the high 80s.

With only two weeks to go until the start of the regular season, Halladay's performance the rest of the way is going to be highly scrutinized, considering how important he is to the Phillies rotation. However, as we wrote about earlier, Halladay left his start on Sunday after only one inning, thanks to a stomach virus that prevented the veteran right-hander from going deep into the game. As such, this edition of the Roy Halladay Velocity Watch is a truncated one, so we'll need to wait until his next start to continue freaking out about his velocity. For now, let's focus on some other things from Phillies camp.

Thing 1: Freddy Galvis hit his second homer of the spring – a two-run shot – that helped elevate the Phillies to a 5-3 win over the Orioles of Baltimore on Sunday afternoon. I wrote about this earlier, but Galvis' performance this spring is likely to earn him a spot on the big league roster. The infielder, who is about as good a defender as anyone in the game, will make for a great late-inning defender and will go a long way in spelling the trio of Chase Utley, Jimmy Rollins, and Michael Young throughout the season. Although his offense (so far) leaves little to be desired, the Phillies would be wildly lucky if the 23-year-old could evolve into an average MLB hitter. With that defensive ability, it would be a shame to waste him in the minor leagues.

Thing 2: This might be old news, but Domonic Brown homered again on Saturday, giving him four on the spring and an OPS of 1.085. We all know how useless spring training numbers are, but with the season set to kick off in 15 days, you can pretty much pencil Brown in as your 2013 right-fielder. That is, of course, until Ruben Amaro decides to stick Delmon Young out there, even though he hasn't played the position on a full-time basis since 2007. But, what would a Phillies season be without some disastrous decision-making from the front office, right? For Brown, winning a starting spot was the easy part. The tough part, now, will be keeping it once the season starts. I'd like to think that Charlie Manuel is going to stick with him all year, but you never really know.

Thing 3: Roy Halladay was not the only Phillies player dealing with some illness, as closing pitcher Jonathan Papelbon has also been dealing with some sickness during the week. While the details of both men's illnesses have not been disclosed, we can only assume that they had what is referred to as Baseball Fever, a condition that afflicts baseball players who get so sick over the thought of being paid millions to play a game that most of us would play for free. That is not to be confused with Spring Fever, which is what bloggers get when they try to craft narratives out of meaningless numbers in the waning days of Spring Training. Speaking of narratives, the Phillies are currently 11-11 in the Grapefruit League – will their poor performance lead to Charlie Manuel's early dismissal as manager? Will they be the first team to hold a fire sale in April? Will the owners pack up and leave town ala "Major League"?

Thing 4: The Phillies announced that RHP Justin De Fratus and LHP Jake Diekman have been optioned to the minor leagues. While both pitchers struggled at times during the spring, they both figured to play a part in the 2013 bullpen. But considering that the Phillies have a glut of arms, they had to cut someone. Even though they will start the season with the Lehigh Valley Iron Pigs, I wouldn't be surprised if both ended up on the big club at some point during the season.

Thing 5: Is the regular season here yet?
Related Stories