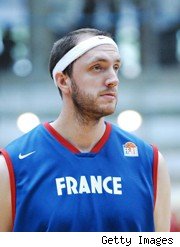 It can be argued that the fate of the Phillies in 2013 might come down to the right arm of pitcher Roy Halladay. The veteran, who helps make up one of the most dominant pitching trios (along with Cole Hamels and Cliff Lee) in the game, has a lot riding on this season as he looks to rebound from an underwhelming 2012.

As such, Halladay has received a bit more attention this spring than any of his fellow starters, especially as it pertains to his velocity during his spring outings. So far, the right-hander has looked good during his starts, with his velocity pretty much where you'd expect it to be at this point in the spring. Although ESPN's Jayson Stark reports that Halladay was in the 86-88 mph range during his start against the Washington Nationals on Wednesday, he looked solid enough during his four shutout innings.

It's still a bit too early to tell whether or not his velocity is going to return to where it was pre-2012, as there is still almost a month left before the regular season begins. That's more than enough time for him to get his velocity where it needs to be if he hopes to return to form in 2013.

Halladay's velocity aside, one of the more interesting things that happened during Wednesday's game was when Halladay threw behind Washington's Tyler Moore. That was an apparent act of retaliation after Nationals pitcher Stephen Strasburg hit Chase Utley in the foot with an errant pitch.

Whether or not Doc was trying to send a message to the Nationals, the ball that sailed behind Moore makes you wonder about whether or not we are witnessing the beginning of a rivalry between two divisional foes. Despite the fact that these two teams are very near to each other on a map, there has never been a real sense of rivalry between them. You could sense it a little bit last season as the Nats pledged to take back their own ballpark from Phillies fans, but even then, there wasn't much else to it. Sure, Cole Hamels plunked Bryce Harper the first chance he got, but that's about as far as it went.

Plus, a proper rivalry occurs when both teams are close to each other in the standings. The Nationals were so much better than the Phillies last season that a rivalry never had a chance to take hold, because it's not like they were battling each other for the divisional crown.

This year, things could be a bit different. If the Phillies can stay healthy, then there is a chance they can compete in the division. It's not terribly likely, as they'll stand a better chance at winning the Wild Card than the division, but the possibility exists that they could meet the Nationals in the playoffs.

And if this is the beginning of a proper rivalry, then sign me up. I remember how much fun it was when the Phillies and Mets battled in 2007 and 2008, and I would want nothing more than for each and every game against the Nationals to carry with it that same meaning.