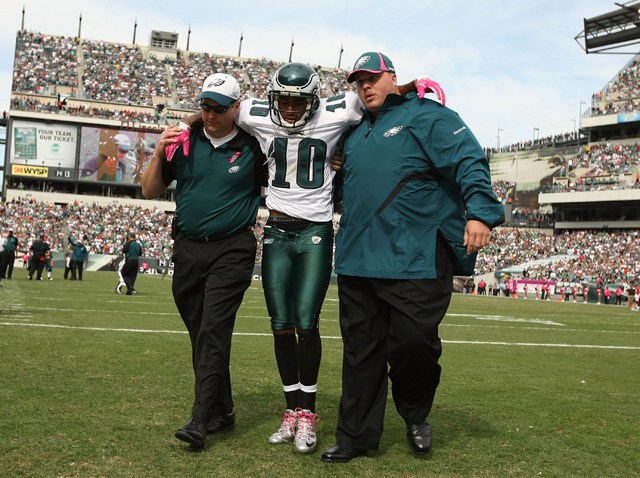 If you watched DeSean Jackson suffer fortieth-degree whiplash at the hands of Dunta Robinson yesterday, you probably surmised that his chances of playing football six days from now were quite slim. In fact, you probably surmised that his chances of eating solid food for the next ten years were quite slim. But this is the NFL where no crippling concussion can't be minimized immediately after the fact. Right, Andy Reid?
Eagles coach Andy Reid said it is a "real stretch" for injured DeSean Jackson to play Sunday against Tennessee.
Was anyone expecting him to play? After nearly getting OJ'ed right on the field? I don't know about you, but I would be horrified and alarmed if Jackson came trotting out to play against the Titans on Sunday. I watched the game yesterday in a packed bar, and when that hit came, you would've sworn people were looking at breaking news of a presidential assassination. Nothing but winces and gasps of horror. I was personally shocked that Jackson's neck didn't break on the play. Seriously, how is that neck intact? That has to defy all laws of physics.
I'm no doctor (NOTE: anyone who says this is about to give you a horribly uninformed medical opinion), but I shudder at the idea of Jackson trying to take the field any time in the next four games. A hit like that is…unnatural. There's no way DeSean Jackson isn't going to wake up one day when he's 37 and feel like someone is sawing his brain in half. That's what hits like that do. So the idea that the Eagles would even entertain the idea that he might play is somewhat disturbing. Then there's this from Andy Reid:
Reid also dismissed reports that Jackson suffered memory loss.

"You get hit like that, you're not going to remember everything," Reid said. "He remembered his touchdowns, he didn't remember the hit."
Isn't that pretty much the definition of memory loss? Are we supposed to be comforted by the fact that DeSean remembered his touchdowns? There's a difference between reassuring everyone that DeSean is all right and trying to minimize just how awful that hit was. The Eagles have shown great restraint in the past with concussed players, Brian Westbrook in particular. Let's hope they show similar patience after one of the more violent hits you or I will ever see.