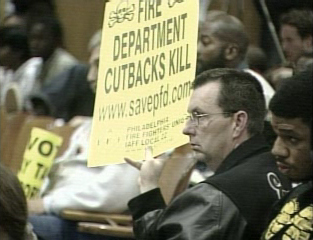 Philadelphia mayor Michael Nutter has gotten a lot of criticism for his decision to close 11 libraries and 67 of the city's 81 pools, and to cut equipment at some of the city's fire stations.
The mayor has said the cuts are necessary to counter a $1 billion budget deficit over the next five years. He has held a series of town hall meetings to discuss the budget crisis.
At Wednesday's meeting at Benjamin Franklin High School in North Philadelphia, NBC 10 asked residents what they think the mayor should do differently.

Single mom, Danita Bates was quick to weigh in, saying she understands the mayor is dealing with a budget deficit but she does not think libraries and pools should be closed.
She says the mayor should instead squash plans to build casinos in the area, fearing building costs would contribute to the problem.
"The casino is not going to benefit (us)," Bates said.
Finance Director, Rob Dubow said to the contrary, the casinos would generate revenue.
"Each of the casinos pays a host fee to the city and eventually they'll be generating in the upper $20 millions per year," Dubow said at tonight's meeting.

Another woman who attended the meeting, Barbara Bradley of North Philadelphia said the mayor should cut the salaries of city officials who make over $70,000.
Mayor Nutter said he had already cut his salary and that of his entire cabinet and said he would still have to layoff city employees.

Ray Clothier of Mayfair said he was concerned about plans to cut equipment at some fire stations and said the mayor should look into cutting after-school programs instead.
At Wednesday's meeting, Fire Commissioner Lloyd Ayers said the cuts to the fire department would not compromise public safety.
The mayor added that he appreciated everyone's ideas and yet said they alone were not enough to deal with the enormity of the budget crisis he faces.
Mayor Nutter will hold two more town hall meetings this month.