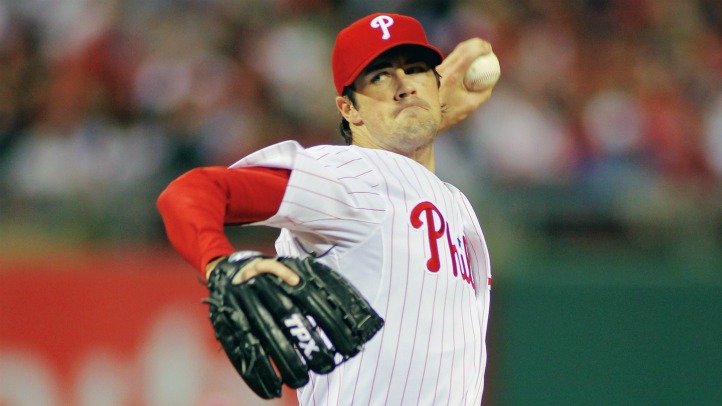 Every day this month, we here at Philthy Stuff will be counting down the New Year's resolutions of each member on the Phillies, and what they can do to guide this team back to October. Next up, Cole Hamels.
Of all the players on the current roster, none may be more valuable than King Cole. Not Roy Halladay not Chase Utley not Cliff Lee but Hamels, the 28-year-old homegrown ace, who can drastically affect the future of the team over the course of the next year.
You see, the reason that Hamels is the most valuable member of the team is because his future is the murkiest. Unlike Halladay and Lee, who are locked up for the foreseeable future, Hamels will be a free agent after this season, which means -- and this is not something that I like to think about -- that he could spend his 2013 season in another team's uniform. And due to the team's rising payroll and the continued dominance of Hamels over opposing hitters -- it's not unrealistic to suggest that he might be tough to bring re-sign.
And for that reason, Hamels' 2012 resolution isn't really his, but Ruben Amaro Jr.'s: Re-Sign Cole Hamels before it's too late.
With the National League East become increasingly competitive with each free agent splash and the Phillies getting older, it's crucial that the team finds a way to compete over the next few years while their young guns in the farm system bloom into Major Leaguers.
The sad truth is that Halladay and Lee aren't going to dominate forever, as both pitchers are in their 30s and will, at some point, begin that dreaded descent towards retirement. But Hamels, he of 28 years of age, is only just now coming into his prime, and should figure to own opposing hitters with his array of pitches.
Sure, the team's payroll is skyrocketing and Hamels is going to command a lot of money in the offseason but the man can pitch better than most anyone else in the game. It would be criminal if, for some horrific reason, the team decided to let him walk.
Earlier in the offseason, rumors abounded that Cole may have been on the trading block as the Phillies were looking at trading for former farmhand Gio Gonzalez as a way to save money while simultaneously strengthening their farm system. On paper that sounds like a decent enough idea but, in practice, it's about the worst thing that can be done.
See, Hamels is a rarity: He is a home grown prospect who managed to burst through his high ceiling and meet his high expectations by the time he was just 26. He is a bona fide ace in every sense of the world, and best yet, he is all of 28.
So while the front office might be content with trading the farm or handing out big contracts to keep the team at the top of the National League, it would do them a world of good to make sure that Hamels never dons another team's uniform.