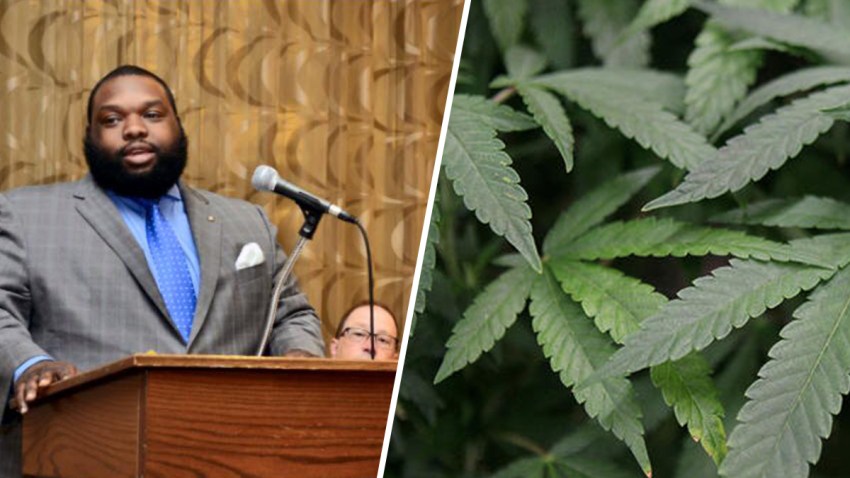 As Pennsylvania inches closer to rolling out its medical marijuana program, a Philadelphia Democrat is introducing a bill to automatically expunge pot convictions for patients with legal cannabis recommendations.
"It will be for anyone with a medical marijuana recommendation," State Rep. Jordan Harris told NBC10. "Should they have a possession conviction, they will have the opportunity vacate that conviction."
Under Harris' proposal, the expungement process would be automatic. He is currently looking for cosponsors.
"It's the fact that the past can continue to harm [patients]," he said. "There are a lot of people with convictions. We have to be sure that our laws are not contradictory."
A 2017 report by the American Civil Liberties Union of Pennsylvania found that black communities in Pennsylvania were disproportionately impacted by the war on weed.
In Montgomery, Bucks and Chester counties, black adults are nearly seven times more likely than white adults to be arrested for pot, according to the report. In Delaware County, the rate drops down to nearly five times more likely. And in Berks County, it's around four times more likely.
Harris' bill would allow patients to avoid legal fees and judges to avoid backlogs in court.
"It's huge," cannabis activist and reporter Chris Goldstein said. "You have nearly 20,000 marijuana arrests every year in Pennsylvania … and 65 percent are people under the age of 30."
Pennsylvania's medical marijuana program is slated to take off in just a matter of months. Already dispensaries are opening up in the Lehigh Valley and Pittsburgh, and lawmakers are scrambling to tie up loose ends for the existing legislation.
On Monday, the Senate State Government Committee passed a resolution asking federal lawmakers to clarify the federal Gun Control Act. Currently, medical marijuana patients are excluded from buying or owning firearms.
A separate resolution asked Congress to remove marijuana from being listed as a Schedule 1 drug and to recognize its medicinal benefits. Currently, cannabis is considered the same as heroin and LSD at the federal level.
Earlier this month, U.S. Attorney General Jeff Sessions rolled back Obama-era protections that allowed states to determine their own marijuana laws. A delegation of Philadelphia-area state representatives called on federal authorities to provide "clear reassurance of non-intereference" in the state's program.
The delegation sent a letter to officials on Jan. 22 but have not heard back, according to State Rep. Maria Donatucci's office.