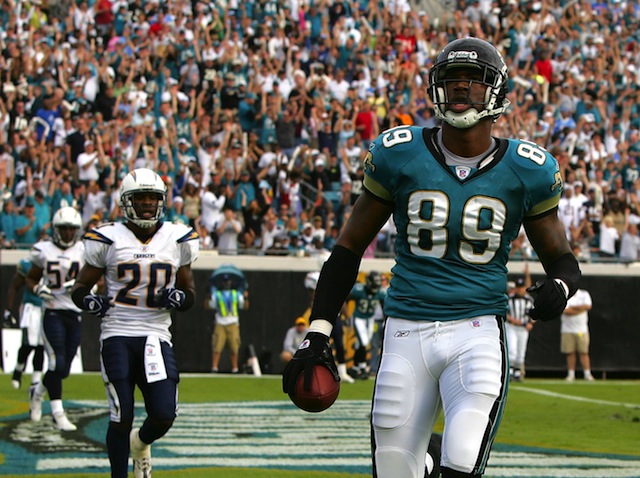 Every week during the season, we'll scout out the Eagles next opponent. This week, that opponent is the Jacksonville Jaguars.

The Opponent: The Jacksonville Jaguars, aka the Jags, aka the Jagwires, aka the Los Angeles Day Laborers (circa 2012)

Record: 1-1

The Line: Eagles by 3.5. Again, the Eagles are road favorites going up against a supposedly bad team. They failed to cover last week.

Last Game: A 38-13 beatdown courtesy of the Chargers, who breezed through the Jags as if they weren't even there. Quarterback David Garrard, who looked so good in the team's 24-17 opening week win over Denver, got picked off four times and was eventually benched for Luke McCown. LUKE MCCOWN! Oh, that's not good at all.

The Coach: Jack Del Rio, aka Eddie Money. This is Del Rio's last season in Jacksonville. He doesn't know that yet, so shhhhhhhh! I'd hate to spoil the surprise.

The Offense: It's hard to figure out which Garrard will show up on Sunday: the one who looked so good in the opener, or the one who went to pieces last week. In his best season (2007), Garrard was a highly efficient passer who seemed on the verge of breaking out. But it's three years later and he still has yet to make that leap. Mike Sims-Walker is a dangerous threat downfield, and you know all about Maurice Jones-Drew. Given how the Eagles fared against the Lions offense last week, I think it's safe to say the Jags can do some damage.

The Defense: Aaron Kampman was stolen away from Green Bay and looks very much like his old pass rushing self. It'll be the job of the Eagles' o-line, which hasn't been very good thus far, to keep him away from Kevin Kolb, lest Kolb be concussed again and give way to Michael Vick. Yes, that would be tragic. I guess. Kind of.

Key Matchup: Sims-Walker vs. Asante Samuel. Shut down Sims-Walker, and you've basically shutdown the Jaguars passing game. They're considerate like that.