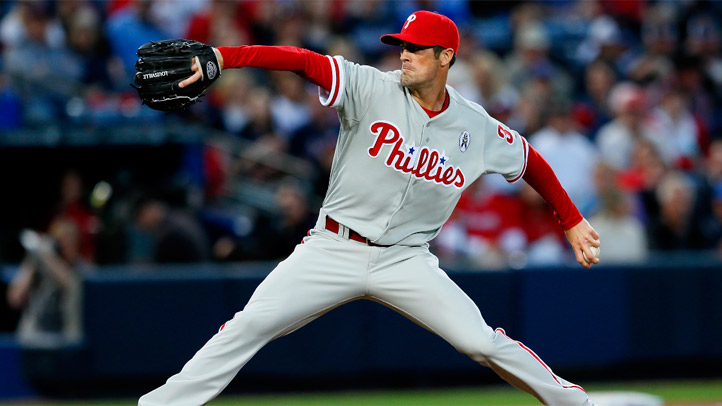 The first game of the season is in the books for the Phillies, and unfortunately, it's one that will be placed squarely in the loss column, after they dropped the opener to the Atlanta Braves by a score of 7-5. I'll spare you the play-by-play of the evening, but I did want to leave you with a few points worth noting from Monday evening's festivities...

Leading Off: We received a glimpse into the future of the top of the order on Monday night, and if one game is any indication, it is a bright one, indeed. Ben Revere, who was tabbed as the leadoff man by Charlie Manuel on Monday afternoon, looked downright leadoff-manish the entire evening, thanks to a potent combination of plate discipline and the ability to foul off close pitches. While his 1-for-4 line doesn't jump out at you, he worked Braves starter Tim Hudson all night, and his 11-pitch at-bat in the fifth inning set the table for a rally that brought the Phillies back within one and sent Hudson to the showers. He won't hit for any power, but his ability to work the count is going to be very useful if he can keep it up.

The Man is Back: I've often stressed that Chase Utley is the most important player in the Phillies offense, and for good reason. Utley made the most of his first Opening Day start since 2010 by going 3-for-5 with a homer (the 200th of his career), a triple, two runs, and three RBIs. His bases loaded single in the fifth inning brought the Phillies to within one run, but the most impressive part about that was that he ended up on second base after right-fielder Jason Heyward's throw went to third. It's the kind of heads-up hustle that Utley is known for, and it's one of the most underrated parts of his game. After a so-so spring, Utley came out of the gates blasting, and his knees showed no sign of injury.

Howard's Whiff: Ryan Howard was not nearly as fortunate on Monday evening, thanks to an 0-for-5 evening at the plate. After grounding into the shift in his first two ABs, Howard came to the plate in the fifth inning with one away and the tying run on third base. Enter LHP Luis Avilan, who proceeded to set Howard down on strikes on five pitches. While that is not an unexpected outcome, considering Howard's struggles against lefties, the fact that Howard swung at the first two pitches (both which were out of the strike zone) didn't increase his odds of bringing the runner home. It's gotten to the point where Howard's ABs against left-handed pitchers are merely formalities, because odds are he's going to fail to reach base. The most frustrating thing about this, however, is his inability to adjust to lefties, and the coaching staff's unwillingness to consider pinch-hitting for a player who has a career .227 batting average against southpaws. Now, it's only one game, so he could get it figured out, but it is worth noting that his OPS versus left-handed pitchers has been on a downward slide since 2010.

Cole's Jitters: Speaking of struggles, it appears that Cole Hamels just can't seem to get it going in his first start of the season. Since 2009, the Ace has an ERA of nearly 10.00 in his season debut, and that was apparent on Monday night, when he allowed five runs on seven hits – three of them homers – in seven innings of work. I don't know what it is, but Hamels just can't seem to have any luck the first time he takes the mound to start a season. I wouldn't worry too much, because if history is any indicator, he'll proceed to straight-up own the rest of the way.

All told, losing the first game of the season is never any fun, but there are worse ways to get beat. Besides, there were some positives to take away from this one, namely the performance of the offense. It wasn't the best way to start out a season, but 50% of the teams have to lose on Opening Day, right? We have 161 more of these things to go, and I'm looking forward to every single one of them.