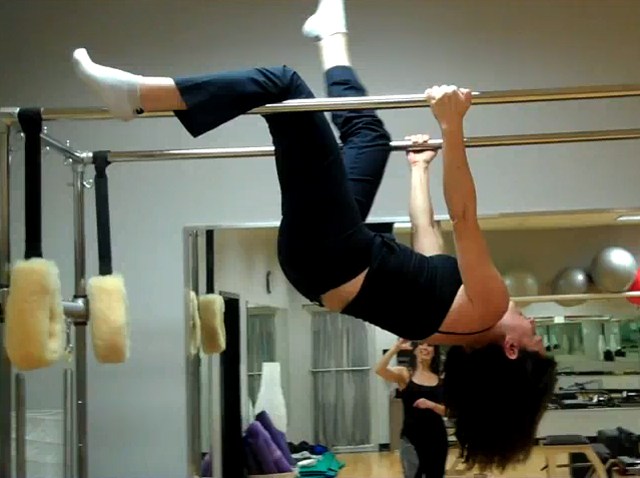 I have to exercise in the morning before my brain figures out what I'm doing. ~Marsha Doble

So, I'm pretty excited about this First. There's something exhilarating about hanging upside like you're a kid on the monkey bars. In the adult world it's apparently called Pilates on an apparatus called the "Cadillac". Bernadette Giorgi makes it look so easy. I assure you, it's not.
Sorry about my upside down camera work. All I have to say is Bernadette is 46 years old! (she told me I could tell you) Seriously, if this is what Pilates does for you, I'm in. Here is my valiant attempt at grace while defying gravity.
By the end of the year, I swear I'm going to be able to do the Bernadette move. A wonderful new challenge. I'll keep you updated on my progress.
Lu Ann Cahn is an Emmy award-winning journalist who's been in the biz for more than 30 years. She's survived motherhood, breast cancer and chasing down bad guys. Now, Lu Ann's trying to complete a year of "firsts." Can she do it? She'll be posting daily here on NBCPhiladelphia.com.