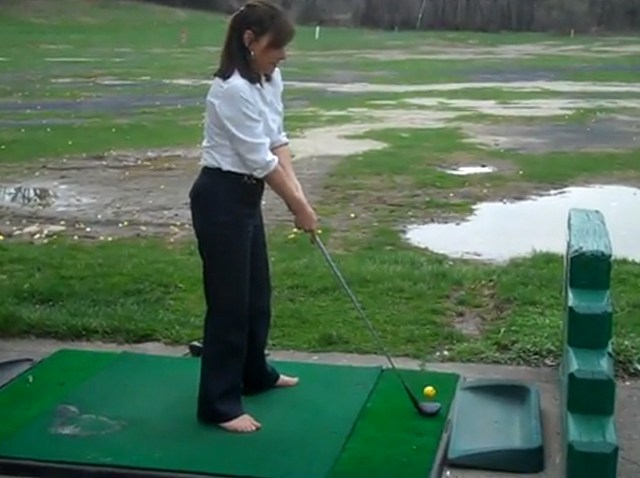 oneThe reason the pro tells you to keep your head down is so you can't see him laughing. ~Phyllis Diller

You know, I was thinking you could make some pretty good jokes about the danger in women swinging golf clubs these days but.... nahh!

Before today, the only experience I've had with a golf club and ball was on a miniature putt putt course. That is clearly evident in this video. Please notice the heels and prepare to laugh.
Maybe it was the Spring weather. I don't know what gave me the idea for this "First" today.

All I know is a lot of guys had the same idea. The place was crowded. Knowing photographer Greg Durgin is pretty good at this, I asked him to come with me to the City Line Sports Center Driving Range.
My biggest fear was that I would hit someone next to me. Fortunately, the guy near by told me not to worry and gave me permission to smack him with a ball. ( Again, I'm sure there is a good joke in this somewhere.)
Here's my second try without heels.
I now see why men (I did not see any other women there) will spend five bucks on a bucket of balls before they go home from work. By the time you're done, you've forgotten about whatever you were worried about before. More women need to get in on this deal. (insert joke here)

Third time, I'm working it. Check this out.
I never understood the point of golf. Now, I still don't know the point. But I will definitely try a "first" on a golf course to see if I can figure it out.

Anyone want to help me with that one?
Lu Ann Cahn is an Emmy award-winning journalist who's been in the biz for more than 30 years. She's survived motherhood, breast cancer and chasing down bad guys. Now, Lu Ann's trying to complete a year of "firsts." Can she do it? She'll be posting daily here on NBCPhiladelphia.com.