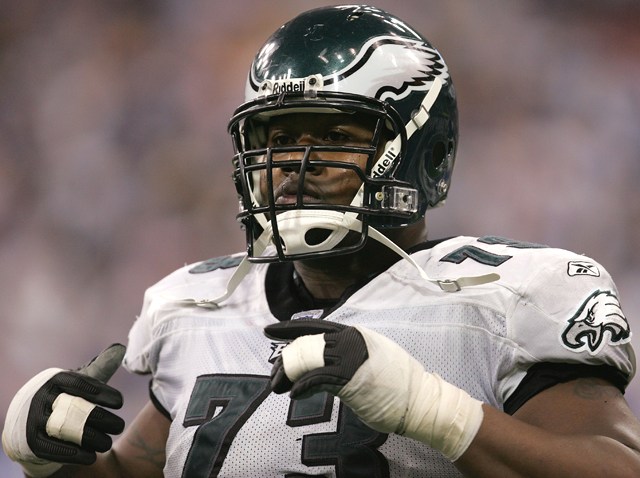 With the Michael Vick circus in town the problems with the bedrock of the Eagles offense was largely pushed aside this preseason but with only one practice game left the offensive line needs examination.
The Eagles spent this off-season revamping an aging offensive line by letting older tackles Jon Runyan and Tra Thomas leave and bringing younger lineman Jason Peters and Stacy Andrews on board.
The revamped line featuring former Arkansas teammates Peters, Andrews and Andrews' brother Shawn along with Jamaal Jackson and Todd Herremans was supposed to be a strong wall protecting Donovan McNabb but this preseason that wall showed cracks.
Due to injuries the unit won't all line up together a single time before the season opener on Sept. 13.
The only big guy who remained healthy through the summer was Jackson at center. The same can't be said for the other heavyweights up front for Andy Reid's offense.
Peters, a $60 million left tackle in charge of protecting McNabb's blindside, missed time during the preseason with a quad strain but he was back on the field last week for the Birds' preseason game against Jacksonville.
Stacy Andrews missed some time coming back from off-season knee surgery but he also was back on the field at right guard against the Jags.
As for Stacy's brother Shawn -- the former guard turned into right tackle finally returned to practice this week after missing all of training camp and all the Eagles' preseason games with a back issue, reported the Inquirer's Bob Brookover and Jeff McLane.
It was ruled out that Shawn would be ready to "get his Michael Phelps on" and test his back by playing against the Jets.
One guy who definitely won't be ready to go for the Jets game was Herremans. The starting left guard underwent surgery on a stress fracture in his foot that will likely hold him out until at least the second game of the regular season, reported NBC Sports.
Starters normally don't play in preseason finales. McNabb won't be out on the field Thursday night -- neither will any of the starting offensive linemen, according to Coach Reid.
Forget about getting the unit to gel -- the Birds would just love for the wounded big men to enter the season healthy. So instead of a monster mash up front expect to see King Dunlap, Mike Gibson, Mike McGlynn, Paul Fanaika and Winston Justice starting up front to protect Vick and Kevin Kolb, according to CSN Philly.