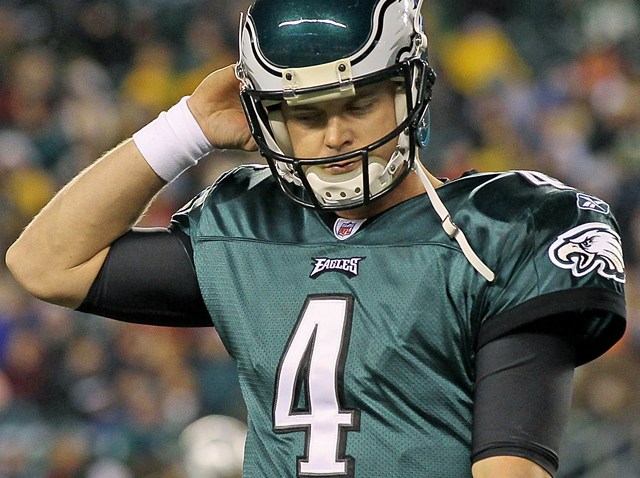 An odd report emerged yesterday that questioned the trade market for quarterback Kevin Kolb. However, the report from 1500ESPN is so full of bizarre assumptions and a host of anonymous NFL sources that its assertions are tough to take seriously.
First, the headline -- Kolb's agents have been telling teams that they're looking for a multi-year deal with a cost one "NFL decision-maker" described as "significant enough to make me nervous." The reporter, Tom Pelissero, makes it sound as though this is both unexpected and a deal-breaker. But in reality, teams already knew Kolb was going to want a long term contract extension -- and if they are going to trade for him as their starting quarterback, the teams will want that, too.
The money was always going to be high. With less starting experience than Kolb, Matt Schaub immediately received a six-year, $48 million contract upon his trade to Houston in 2007 -- a deal which turned out to be a bargain. In 2009, Kansas City similarly acquired Matt Cassel from the Patriots after only one year as a starter, giving him a six-year, $62.7 million contract that included $28 million in guaranteed money.
Those kind of contracts are now expected for franchise quarterbacks, and any team that was considering Kolb would have to consider paying just as much to an unproven rookie or retread free agent with just as many question marks.
Furthermore, Pelissero emphasized one anonymous scout's doubts about Kolb, while downplaying three more he spoke with who agreed that the Eagles quarterback was worth a first round draft pick. Clearly there's a market out there for Kolb, even with supposedly high contract demands and limited experience.
Obviously, Kolb isn't a fit everywhere and some teams may not be enamored with his skill set. But there are so many teams out there looking for starting quarterbacks, at least a few feel like they're one player away from competing. Those teams are going to be willing to take a chance on Kolb.
Last offseason, rumors suggested that teams were offering more for Kolb than they were for Donovan McNabb. There's no reason to think that's changed. Since McNabb netted the Eagles a top second round pick, I expect eventually to see a first round selection and possibly more coming to Philadelphia for Kolb.