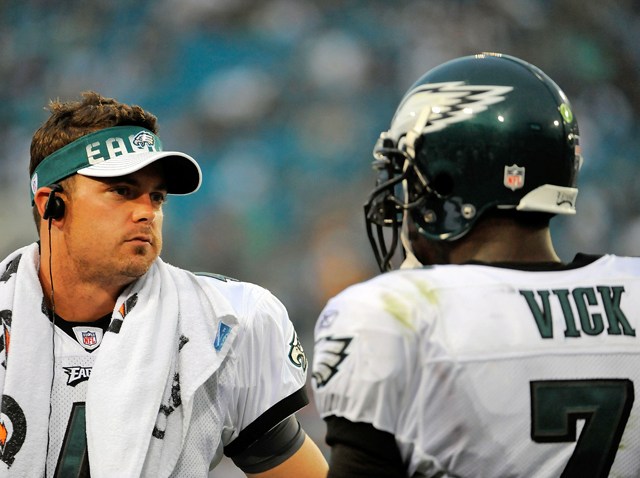 Being relegated to a backup role after being given the keys to the Eagles franchise had to have been humiliating and frustrating for Kevin Kolb. Michael Vick interrupted his coronation as top Bird. Yet, from what I can tell just watching Kolb's demeanor on the sidelines in Jacksonville, he appears to be genuine in his support for Vick.
That spirit speaks volumes for Kolb. NFL quarterbacks are not wired to be second bananas -- certainly not QBs who were anointed the "franchise" like Kolb clearly was.
They're called quarterback controversies because it creates turmoil and division within a team. The San Francisco 49ers had to let go of Joe Montana once Steve Young was handed the team because despite Montana's four Super Bowl victories, his presence would threaten Young.
Even Donovan McNabb -- once determined to have diminished skills -- was jettisoned rather than to be around for the passing of the torch. But the torch was barely in Kolb's hands before it was wrangled loose by Vick. That's the nature of the position in the NFL.
Yet, Kolb appeared to be helpful with information each time Vick came off the field and Kolb cheered and fist-pumped with each of Vick's scores.
So, my regard for Kolb is heightened because in this world of prima donna athletes, Kolb is displaying what it means to be a good teammate.