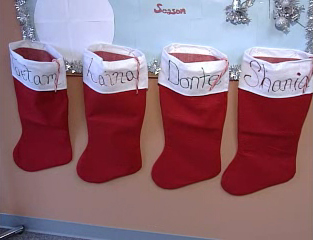 In just a few days, Summer Arbogast and her daughter learned about human cruelty…and human kindness.
"With the bad that happened…came the good!" said Arbogast Wednesday.
Last week, someone broke into Summer's locked car behind her Lower Chichester house and stole $600-worth of Christmas presents she was hiding from her four children, according to police.
Summer even thought about moving because of the incident.
"Something worse might happen! Are they going to break into our house? People are ruthless!" Abrogast said.
But it was Linwood chiropractor Tim Martin who may have restored Summer's belief in people.
His staff saw NBC 10's story about the theft and setup a collection box and stockings for Summer's children.
"Having those gifts just stolen from you and not having the economic funds to buy them again…I can just imagine how are those kids are gonna feel on Christmas morning?" said Martin.
Now, Summer Arbogast will not have to tell her kids that Santa didn't stop
There.
"I'm just a stranger to them and they went out of their way to make sure my kids have a Christmas and that really touched me!" said Arbogast.
And maybe as the kids get older, they'll remember the good side of this Christmas.
"It gives me hope they will be givers and will want to help other people," said Arbogast.
Dr. Martin's office is asking anyone who can to please donate new, unwrapped toys or gifts cards from Toys 'R' Us, Wal-Mart or Kmart.
Anyone who donates a toy or gift card will receive a free week of chiropractic care.
The public is invited to see Santa present toys to the parents at the Martin Chiropractic Christmas Party on Saturday, December 20 from 10 a.m. – 3 p.m. at the chiropractic office.
Arbogast Family Toy Drive
Martin Chiropractic
2450 Market Street
Linwood, PA. 19061