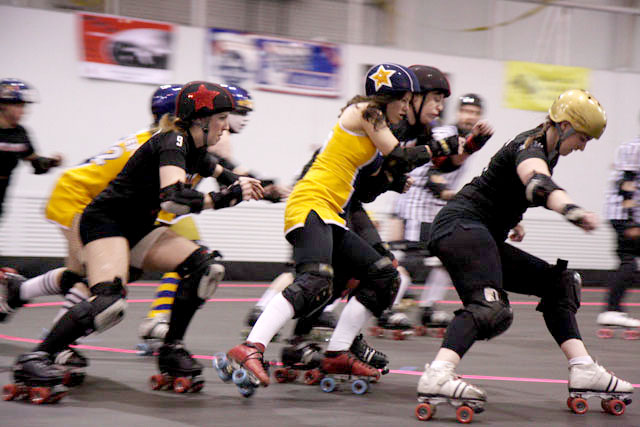 Frustrated with your daily routine? Need a way to let off some built up steam that won't land you in jail?

You could try the psychiatrist, but we suggest a different form of therapy. Why not adapt a psychotic alter ego while roller-skating around a circuit track bruising and battering an opposing skater?

If this sounds like heaven on earth, then the roller derby might be the place for you.

Roller derby is a contact sport, involving the formation of skaters on an oval track with points scored once players lap members of the other team. Those in the formation use various body parts to block the opposing player from passing.

The Philly Roller Girls are holding free tryouts on Sunday, November 22 from 11a.m. to 2 p.m. at Millennium Skate World. The requirements are simple, be able to skate and be over 21. And while it's not a requirement, being tough as nails will certainly be helpful as well.

It pays to be hardcore when going up against players like Mo Pain and Nina Knockout. Injuries of some form are almost guaranteed. But if you're tough enough, the experience is worth the bruises.

The Philly Roller Girls have three teams, the Broad Street Butchers, Heavy Metal Hookers, and Philthy Britches. The teams compete each year for the Warrior Cup while the best players in the league join the Liberty Belles, who represent Philadelphia in the Women's Flat Track Derby Association.

Millennium Skate World will provide free rental skates for those who need them as well as protective gear. However, be sure to bring your own skates, knee-pads, elbow pads, wrist guards and helmet if you have them at home.

So be adventurous and head to the tryouts. Sure it might get painful at times, but in the end, satisfying. Why walk through life, when you can roll instead?