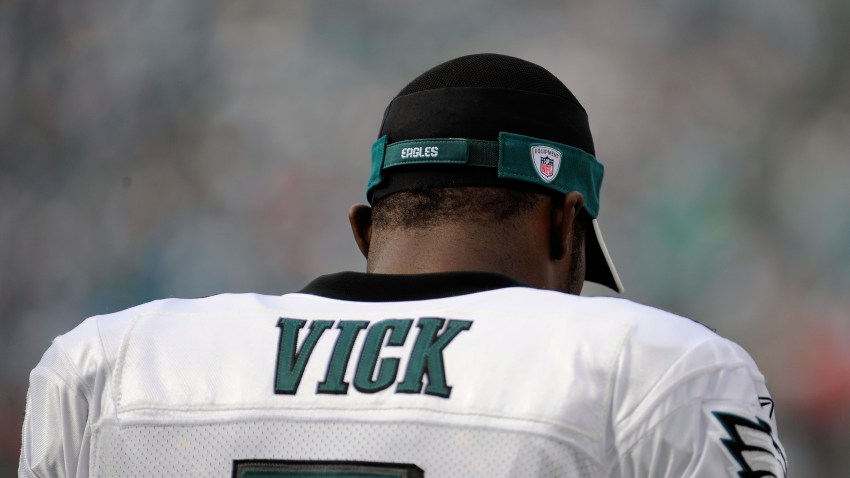 The Eagles will have some star power on the sidelines Sunday as a handful of starters sit out against the Falcons.
Former Falcons star Michael Vick tops the inactive list as the eagles third-d string QB. So even though he likely won't play it's possible if both Kevin Kolb and Mike Kafka go down to injury that Vick could see the field despite injured ribs.
It's somewhat reasonable to question if Kolb and Kafka can hold up because of the eagle makeshift line. Starting left tackle Jason Peters is inactive with a knee injury leaving backup King Dunlap lining up across from Atlanta's high-flying defensive end John Abraham.
Other contributors taking a seat Sunday include starting defensive tackle Brodrick Bunkley, cornerback Trevard Lindley and wideout Riley Cooper.
With Bunkley on the mend defensive end Daniel Te'o-Nesheim will be in uniform for the first time this season.
The rest of the inactive Birds were tight end Clay Harbor, linebacker Keenan Clayton and newly acquired running back Jerome Harrison.
Harrison likely will be active soon but in the mean time Joique Bell gets the nod behind LeSean McCoy. And with Cooper still recovering from a concussion expect Chad Hall to see reps as the fourth wideout.
As for Atlanta, wideout Michael Jenkins is active for the first time this season. The same can't be said for inactives DB Dominique Franks, RB Gartell Johnson, LB Sean Witherspoon, DE Lawrence Sidbury, T Garrett Reynolds, DT Trey Lewis, G Mike Johnson and third-string QB John Parker Wilson.