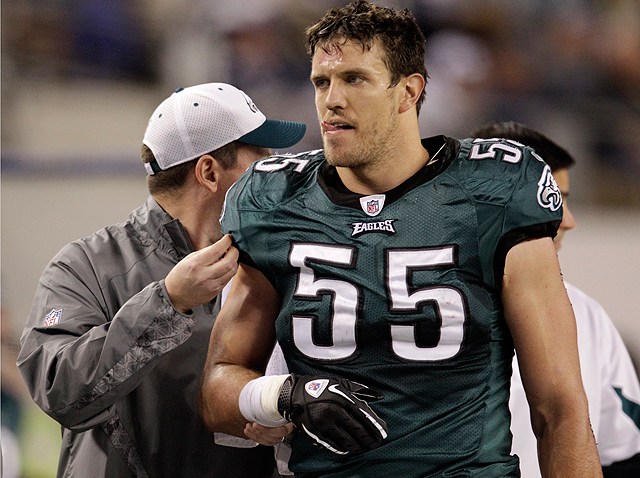 Eagles starting middle linebacker Stewart Bradley likely won't finish another regular season with the Eagles.
This time his elbow went the wrong way in the Eagles 30-27 win in Dallas.
Our own John Clark summed it up in a tweet: "Stew Bradley dislocated elbow. Wow probably done for season."
Sports Final's Howard Eskin was told by his sources that Bradley would be gone for the rest of the "regular" season. Coach Andy Reid hinted that Bradley could possibly be back in time for the playoffs if the Eagles make it that far.
Bradley left the Eagles-Cowboys game early in the second quarter after landing awkwardly on his right elbow after being upended by Dallas running back Tashard Choice. Later in the quarter news broke that Bradley had a dislocation and wouldn't return.
Season-ending injuries are nothing new for Bradley. He missed all of last season after blowing out his knee during Eagles Flight Night. But the full severity of the dislocation and how long Bradley is out likely won't be clear until he gets an MRI.
Bradley also suffered a concussion in the Eagles opener this season that cost him the next game.
Rookie seventh-round draft pick Jamar Chaney took over for Bradley at middle linebacker since normal backup Omar Gaither was inactive against Dallas.
Expect Gaither to be back on the field next week against the Giants and don't be surprised if the Birds also sign another linebacker.
Bradley wasn't the only Eagles defender to possibly be lost for the rest of the regular season. First-round pick Brandon Graham has an ACL tear in his right knee and is most likely done for the season, sources told Eskin.
Without Bradley and Graham, the Eagles D could be in trouble against the Giants.