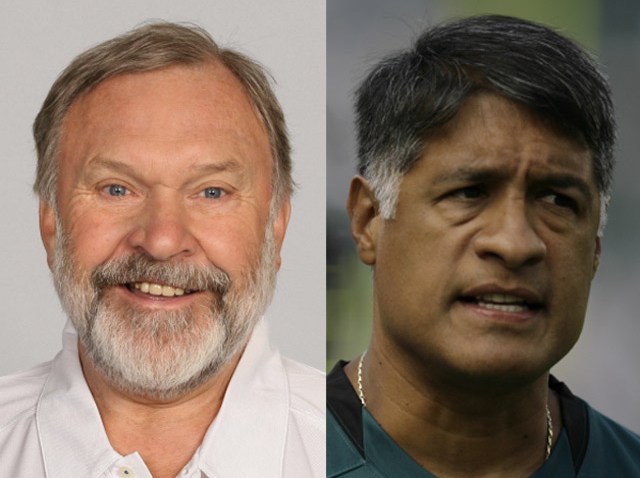 The Eagles announced the hiring of Howard Mudd as the offensive line coach, moving veteran Juan Castillo to defensive coordinator.

Castillo, a former Texas A&I Linebacker, has spent the last 13 seasons as the Eagle's offensive line coach but originally began his career as a defensive coach.

He served as the linebackers coach and defensive coordinator at his alma mater, Kingsville High School and Texas A&M-Kingsville before making the switch to offense in 1990.

Castillo, 51, made his Eagles debut in 1995 as an offensive assistant to Ray Rhodes before making his way up to offensive line coach. When Andy Reid became head coach in 1999, Castillo was only one of four to keep his coaching position.

Since then, Castillo has been recognized for coaching four lineman to their first Pro Bowl selection and shaping numerous undrafted players into NFL starters.

As one of only a few coaches in the NFL of Hispanic Descent, Castillo has also done work off the field for the NFL by helping promote football to its Spanish-speaking audience.

Overall, Castillo's move has been well-received by other NFL coaches.

"Great move by Coach Reid. Juan is a football junkie who has always studied the entire game. He's a detailed, aggressive, and passionate football coach - all attributes vital to coaching defense. I wish him all the best." says St. Louis Rams head coach Steve Spagnuolo.

Castillo's old position of offensive line coach will be filled by the experienced Howard Mudd.

Mudd's most recent job lasted from 1998 to 2009 as the Indianpolis Colts offensive line coach, but the former NFL player has a total of 36 years of coaching under his belt.

He graduated from Hillsdale College in Michigan and went on to play for San Francisco from '64 to '69 and Chicago from '69 to '71.

Mudd, 68, started in three Pro Bowls and has a combined seven Pro Bowl appearances as the coach for Tarik Glenn and Jeff Saturday.
Head coach Andy Reid and Juan Castillo will hold a press conference at the NovaCare Complex at 6:30 p.m. Wednesday night to announce the news.
---
Fan, follow and download: Get the latest from NBCPhiladelphia.com anytime, anywhere. Follow us on Twitter, Facebook and NBC Philadelphia. Sign up for our sports newsletter. And, get breaking news delivered right to your mobile phone -- just text PHIBREAKING to 639710 to sign up. (Message and data rates may apply.)