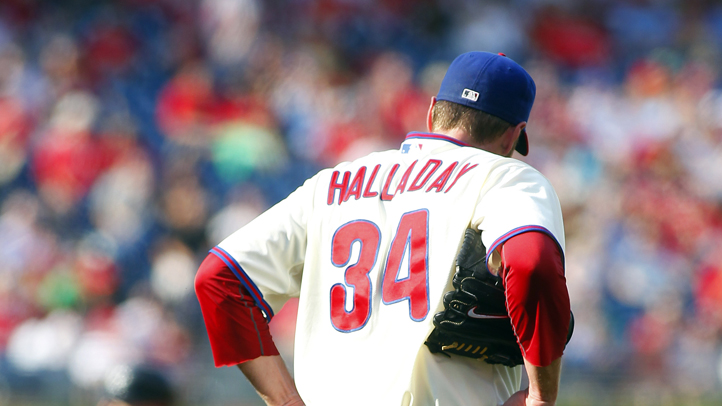 For the second time in as many starts in 2013, Roy Halladay has failed to get past the fifth inning in a baseball game. And also, for the second time in as many starts, Phillies fans find themselves wondering just what has happened to their Ace.

Following his rough start in Atlanta nearly a week ago, many - including myself - were willing to give Roy a bit of a pass. After all, one bad outing doesn't mean anything, especially against a powerful team like the Atlanta Braves. It's not that Roy was excused from that first start. It's just that you can't jump to any conclusions that early in the season. And considering that he struck out nine hitters in less than five innings of work, there appeared to be something positive to take away from his first outing of the year.

Whatever positive vibes that anyone felt following that Atlanta start have surely dissipated. His follow-up performance against the light-hitting New York Mets was noteworthy in that the only positive thing to come out of it was the fact that he didn't allow a run in the first inning. That was the high-water mark for Roy on the night, as he proceeded to go off the rails by allowing seven runs over the next three plus innings of work, thanks to six hits, a homer, three walks, and - just for good measure - one hit batsman.

Like in his start against the Braves, Halladay just looked lost on the mound. Despite his fastball velocity being up around 90-91 MPH, his command was all but gone, as evidenced by the three walks and 40 of his 99 pitches being out of the strike zone. And when he was able to throw strikes, he didn't have a great deal of success in setting hitters down via the strikeout. Against pitcher Matt Harvey in the fourth, Doc was unable to put him away, as the young Harvey was able to foul off three pitches with two strikes before finally flying out to right. You can give credit to Harvey for hanging in against Doc, but it doesn't speak volumes about a pitcher's ability when he is unable to set the opposing pitcher down in a timely manner.

What's frustrating about Roy's performance is that, when you see him pitch, it doesn't look like there is just one thing wrong with him. It's not as if he is messing up his arm angle, or that he is throwing a lot slower than he is used to. All of the pieces appear to be in place, but he isn't getting the results that would indicate that he isn't an absolute mess right now. And that's sad, because a pitcher like Halladay deserves a much better fate than to be saddled with this kind of depressing performance.

Following the game on Monday, Doc is going to talk to some reporters, and he's going to say that he's fine, and that he feels good, and that the ball felt good coming off of his hand, and that he was executing his game plan, and so on. But no matter how many empty clichés and meaningless platitudes he throws out there, it's pretty clear that Roy is broken, and neither him nor the coaching staff seem to have any ideas as to how to fix it.

It's still way too early to write off Roy's season, but with each poor start, it makes it easier and easier to accept the fact that the Roy Halladay who dominated the National League in 2010 and 2011 is never coming back.