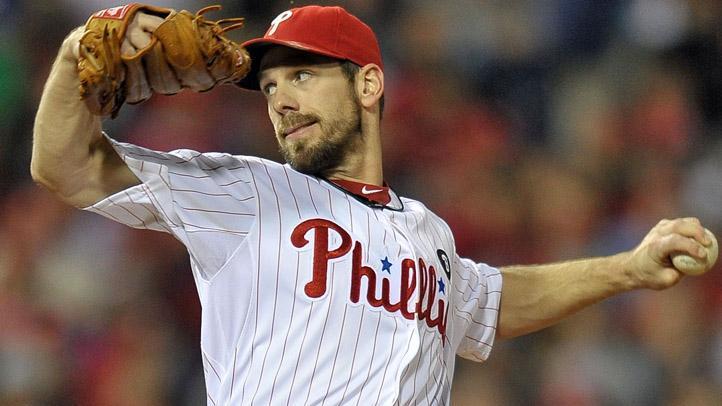 Let's face it, Cliff Lee is just not a winner.

Ruben Amaro's prized free-agent signing is more bust than Ace this season, at a time that the Phillies can least afford it. While Kyle Kendrick is busy throwing complete game shutouts, Lee is counting his money and mailing in his performances, as evidenced by his zero wins in his eight starts.

To get an idea of just how bad that is, Lee is trailing the following pitchers in wins in 2012: Mike Minor (6.98 ERA), Tim Lincecum (6.41), Randy Wolf (5.73), Jamie Moyer (5.70), and Mike Leake (5.47). It's a murderer's row of mediocrity, and the Ace lefty (can we even call him Ace?) is batting cleanup. I'd suggest that the Phillies trade him in an attempt to salvage something from his contract, but that would require someone actually wanting him.

And if you believe the previous paragraphs, I've got some land in Florida that I want to sell you.

In all seriousness, Cliff Lee is without a win in 2012, which is actually quite comical. Despite having a 3.00 ERA and six starts where he allowed fewer than three runs, he has yet to break into the win column.

As we have learned over the past few years, wins are about the worst way to judge a pitcher, because it requires some assistance from the offense. And so far this season, the Phillies haven't exactly given him a ton of run support, as they have averaged just three runs per game in his seven starts coming into Wednesday night. And for some context, Roy Halladay has been given 5.47 runs per game, Joe Blanton 6.06, and Cole Hamels 7.04.

What does that tell us? Nothing, to be honest. Sometimes the bats don't come around until after they are taken out of the game(like on Wedneday night, when the Phillies scored nine runs after Lee was taken out), and sometimes they don't come around at all. Wins have more to do with the opposing pitcher and the offense than anything else. That's why Cliff Lee can toss 10 innings of one run ball and get the loss, while Joe Soupcan can allow seven runs in five innings and earn the win. Baseball can be a tricky mistress.

But, at the risk of not providing you with any sort of narrative, here goes: What if the Phillies are mad at Cliff Lee for some reason? After all, he and Shane Victorino tussled in the dugout during his latest start, so it's possible that the rest of the team doesn't like him. Maybe he always leaves the milk out, or even worse, maybe he spoiled "Game of Thrones" for everyone in the clubhouse. What a jerk. Not everyone has read the books, Cliff!

Not really. But, hey, maybe.

At this point, I'm sort of rooting for Lee to go winless the rest of the way, despite dominating in every one of his remaining starts. Could you imagine if he went 0-6 despite having an ERA of 2.45 in 200 innings or so? The Cy Young voters wouldn't know what to do with themselves.