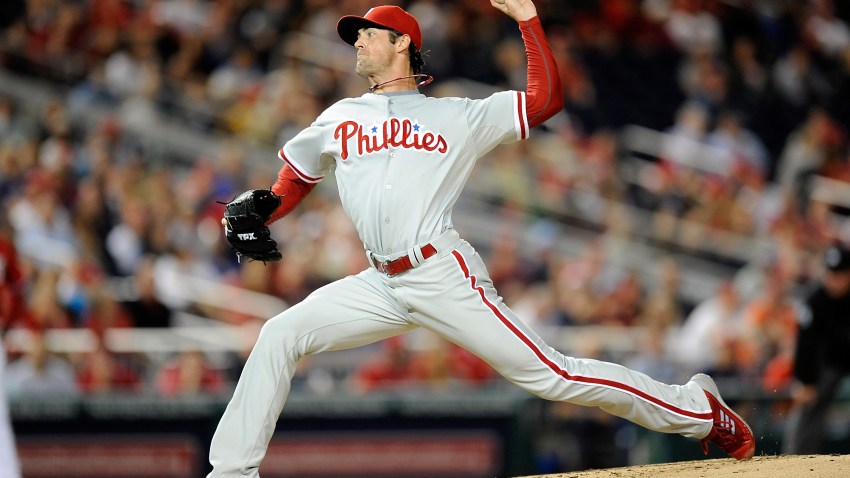 Early Wednesday, it was reported that the Phillies signed Cole Hamels to a six year contract extension worth $144 million, with an option for a seventh that will make Hamels the highest paid player in the history of the franchise.
It was the culmination of weeks and months of speculation, as the pitcher had to decide if he wished to remain in Philadelphia, or if he would rather test the waters of free agency when the season ends. Lucky for us, he chose to stick around with the team that drafted him and molded him into the pitcher he is today.
Whenever this type of contract is signed, there is always going to be some back and forth between the fans and pundits about whether or not it was worth the money. Ultimately, a baseball player is never worth the millions of dollars he is given, but given the market and the amount of money that Major League Baseball earns on a yearly basis, it's fair to say that, yes, maybe Cole is worth it.
At any rate, I love the deal, because it keeps Hamels in town for the next six years, which means we get to watch him make hitters look silly ad infinitum. Pretty good deal, if you ask me. But that's not the only reason I love his new contract, even if it is more money than I'll ever see in my lifetime.
Here we go...
Cole Hamels is really, really good. He's been in the game for seven years, and he's thrown nearly 1,300 innings of 3.38 ERA-style baseball. That's good. He's also struck out nearly a batter an inning, while owning a strikeout-to-walk ratio near four. That is also good. And if you remove his forgettable 2009 season (which really wasn't that bad in hindsight) and his rookie 2006 season, he's been one of the top pitchers in the game, year-in and year-out.
He's 28. He's young, which is pretty crucial considering how much money is owed to the elder statesmen of this team. While Ruben Amaro was anxious to hand out $20MM salaries to Ryan Howard, Roy Halladay and Cliff Lee when they were already 30-years-old, he did not have to do the same with Hamels, who will be 29 when his contract starts – and if it vests completely – 36 when it ends. For the sake of comparison, that's how old both Halladay and Lee will be when their deals end, not counting the option years.
He's the best home-grown pitching product in the history of the team. There is something special about seeing one of your rise up through the minor leagues and make a huge splash in The Show. It doesn't happen every day, but when it does, it's really amazing. And with Hamels – like Washington's Bryce Harper or Los Angeles' Mike Trout – we had a front row seat. We were there when he shot through the lower levels of the minors like a bullet coated in jet fuel, and we were there when he made the leap to stardom during the 2008 playoffs. And now, we'll be there through his prime years, when he will continue to terrorize the rest of the National League with this changeup. And with any luck, we'll be there when he stands in front of the podium in Cooperstown, where he will join the ranks of the all time greats.
It's not my money. That's something that is thrown out a lot, that it isn't your money that is going to pad Cole's wallet. And it's true, because you won't pay an extra dime to see him in red pinstripes through the next half-decade unless you decide to keep going to the games and packing Citizens Bank Park on a nightly basis. And that's just what the team hopes that you'll do. With this move, Ruben Amaro made it loud and clear that this team is committed to winning in the long run. It might look gloomy now, but it would look even worse if they let Hamels walk. By putting up the money for his contract, the team is telling you – the fans – that winning is the number one priority.
He is the future. Above all, Hamels is going to be the face of the franchise for the foreseeable future. While Chase Utley and Ryan Howard and Jimmy Rollins will make their mark, it's going to be Hamels who leads this team on the hill. With both Roy Halladay and Cliff Lee on the wrong side of 30, it's a matter of time before the torch gets passed to the Ace lefty who led this team to victory in the 2008 World Series.